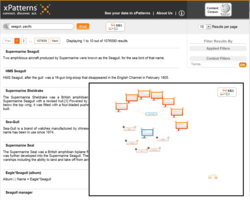 Providing an exploration tool for Wikipedia is an excellent example of what we offer enterprises in accessing and acting on their data through the creation of Domain Experts
Bellevue, WA (PRWEB) August 07, 2012
Atigeo™, a compassionate technology company delivering a revolutionary big data cloud software platform, announced today the release of xPatterns™ for exploration into Wikipedia. The Wikipedia data set consists of more than four million articles, comprising more than 16 gigabytes of data.
"Enterprises are challenged with aggregating and assimilating esoteric data from many disparate sources. xPatterns enables organizations to find and extract the most relevant information from terabytes of unstructured text-based data," said Christopher Burgess, chief operating officer and chief security officer of Atigeo. "Providing an exploration tool for Wikipedia is an excellent example of what we offer enterprises in accessing and acting on their data through the creation of Domain Experts."
In order to facilitate understanding of the relevance of a specific document to a specific concept, xPatterns creates a Domain Expert (DE) that captures and represents relationships between concepts within a given domain. DEs are created automatically from analyzing and processing large bodies of unstructured (or structured) text information about the domain. They can be leveraged to determine indirect semantic relationships between queried concepts and related concepts and can leverage existing ontologies to strengthen relationships.
"A DE is particularly useful in scenarios where concepts or items are referred to in many different ways. With xPatterns you can easily navigate among clusters of many relevant documents to discover non-obvious relevant concepts and documents relating to what you are looking for," said Burgess.
xPatterns provides a complete search solution out-of-the-box, including high relevance, indexing, integration with multiple content sources and format, faceting, related content, search and user interface. It can also be integrated with current systems to add a layer of relevance on top of current functionality. Query results are returned in multiple views, including a 3D visualization tool.
View - Burgess introduction of Domain Expert for Wikipedia.
Read - Building Successful Big Data Solutions - an Atigeo whitepaper
Contact Atigeo to discuss the use of xPatterns with your data.
About Atigeo™
Atigeo is a compassionate technology company turning science into products and services for a wiser planet. Our unique semantic platform, xPatterns™, facilitates the intelligent discovery of knowledge from large disparate sources of dynamically changing, structured, and unstructured data. Third party applications can easily be deployed on xPatterns through web-services to immediately enrich data insight through the self-discovery of patterns and concepts in real-time. xPatterns enables a trust model the enterprise may extend to their users, providing each user the ability to privately manage their data, and automatically leverage offline information to provide unprecedented experiences and benefits. xPatterns is enabling telecommunication providers, healthcare providers, government organizations and retailers to leverage new insights in real-time, derived from data that has been traditionally difficult to link and expensive to maintain. xPatterns software can be delivered as Software-as-a-Service or Appliance-based. For more information, visit: http://www.atigeo.com
Media Inquiries
Haripurkh Khalsa
Atigeo Media Relations
(425) 749- 5049
haripurkh.khalsa(at)atigeo(dot)com
Thea Lavin or Bill Bode
Schwartz MSL for Atigeo
(415) 512-0770
Atigeo(at)schwartzmsl(dot)com