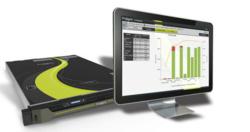 Proligent gives OEMs a tool to centrally monitor and control manufacturing test operations across their supply chain while transforming their manufacturing test data into real-time actionable business intelligence
Austin, TX (PRWEB) August 07, 2012
Averna, premier test solution provider to electronics and communications OEMs, announced today Release 6.0 of its award-winning and patent-pending Proligent® Test and Quality Management software. Proligent gives product designers and quality managers the ability to quickly and easily mine manufacturing data, uncovering opportunities to accelerate time-to-quality, streamline supply-chain activities and reduce costs. From August 6-9, Averna will be demoing Proligent Release 6.0 at NIWeek 2012 in Austin, TX (Booth 601/607).
The latest release of Proligent includes several key enhancements that provide easier navigation of test and quality data, broader reporting – including new RMA and real-time yield monitoring reports – and alarm capabilities for improved and quicker root-cause analysis. As well, this version features increased scalability and streamlined synchronization to address very large production volumes across multi-site deployments, simplified process-control management through easier integration with NI TestStand, quicker installation and many additional market-driven enhancements.
"Proligent gives OEMs a tool to centrally monitor and control manufacturing test operations across their supply chain while transforming their manufacturing test data into real-time actionable business intelligence," said Pascal Pilon, President and CEO of Averna. "This release improves usability, making it even easier for electronics OEMs of all sizes to use Proligent for systematically improving their products and driving innovation, ultimately strengthening their strategic positioning."
"With Proligent Release 6.0, we have incorporated new technology to handle 'Big Data' coming from globally distributed supply-chain locations, and we have also introduced many additional features to our Analytics platform making it the most comprehensive in the industry," said David Jones, Vice-President, Product Management and Development, Proligent. "And our turnkey Proligent Appliances provide customers with an easy-to-deploy, on-premises solution with high efficiency right out of the box for a rapid return on investment (ROI)."
For more information about Proligent, go to: http://www.averna.com/solutions/test-quality-management/proligent
About Averna
Averna is a premier manufacturing solution provider for communications and electronics device-makers worldwide, helping them deliver a better end-user customer experience. Key Averna clients in the communications, aerospace, defense, automotive, consumer electronics, and medical device industries use Proligent, RF Test Instruments, and other test solutions to accelerate product development, reduce manufacturing costs, achieve superior quality throughout the lifecycle, and solve critical supply-chain issues.
Averna has offices and sales partners around the world. Incorporated in 1999, Averna is a Best in Test award winner, an Ernst & Young Entrepreneur of the Year® recipient, and has been honored as one of the Deloitte Fast 500 fastest-growing technology companies in North America. http://www.averna.com
Proligent Inquiries
Michael Weizmann, Product Marketing Director
michael(dot)weizmann(at)averna(dot)com
+1 514-842-7577 x675
Media Contact
Isabelle Pilon
isabelle(dot)pilon(at)averna(dot)com
+1 514-842-7577 x421
© Copyright 2012 Averna. All rights reserved. Information subject to change without notice. Averna and Proligent are trademarks of Averna. All other brand names, product names, or trademarks belong to their respective holders.