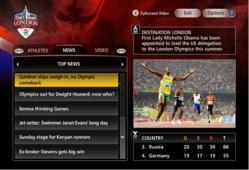 FiOS customers watching the London 2012 Olympics have an even more enjoyable and easier interactive experience than before thanks to our collaboration with Ensequence.
New York, NY (PRWEB) August 07, 2012
Millions of fans are calling up athlete bios, video highlights and fun facts instantly during the London 2012 Olympics Games broadcast. With the goal of increasing viewer engagement, Verizon is enhancing their NBC Olympics broadcasts with interactive TV enabled by Ensequence throughout the Games.
While watching any Olympic sport or featured story, subscribers use their remotes to launch an NBC Olympics-branded application on the TV screen. They can view medal count stats. They can browse athlete information by sport, name or country and view bios and news. They can also select scheduling information and play over 50 featured video clips on demand.
The application is available on a range of NBCU channels including NBC, NBC Sports, MSNBC, CNBC, Bravo and Telemundo.
This is not the first time Ensequence has powered interactive television during the Olympics. The interactive TV leader partnered with DISH Network and NBC Universal on the 2008 Beijing Olympic Games, and it teamed with DISH Network, Verizon and NBC Universal on the 2010 Vancouver Games.
This time, viewers have a visually richer experience that includes a scaled video insert and more viewing area. "FiOS customers watching the London 2012 Olympics have an even more enjoyable and easier interactive experience than before thanks to our collaboration with Ensequence," said Maitreyi Krishnaswamy, director of interactive video services at FiOS TV.
"Ensequence is proud to earn qualification for a third Olympics, and we're excited to lead the evolution of interactive TV into an even more robust interactive experience that is easily accessible to millions of Olympics fans," said Peter Low, CEO of Ensequence.
About Ensequence
Ensequence enables programmers, service providers and advertisers to increase programming ratings, advertising effectiveness and merchandise sales by making their shows and commercials more powerful and engaging with interactivity. The Ensequence iTV Manager® interactive platform solves the technical complexities associated with creating and deploying a high volume of uniquely branded interactive television experiences across cable, satellite, telco and connected devices. Ensequence's customers include the largest and most innovative programmers and service providers in the media industry: NBCUniversal, MTV Networks, Showtime Networks, Turner Broadcasting, HBO, QVC, WE tv, MSG, Fuse, Comcast, Time Warner Cable, DISH Network and Verizon. In addition, Ensequence is deployed on multiple connected device platforms. To learn more, visit http://www.ensequence.com, follow Ensequence on Twitter and visit our YouTube channel.
About Verizon
Verizon Communications Inc. (NYSE, Nasdaq: VZ), headquartered in New York, is a global leader in delivering broadband and other wireless and wireline communications services to consumer, business, government and wholesale customers. Verizon Wireless operates America's most reliable wireless network, with more than 94 million retail customers nationwide. Verizon also provides converged communications, information and entertainment services over America's most advanced fiber-optic network, and delivers integrated business solutions to customers in more than 150 countries, including all of the Fortune 500. A Dow 30 company with $111 billion in 2011 revenues, Verizon employs a diverse workforce of more than 188,000. For more information, visit http://www.verizon.com.
VERIZON'S ONLINE NEWS CENTER: Verizon news releases, executive speeches and biographies, media contacts, high-quality video and images, and other information are available at Verizon's News Center on the World Wide Web at http://www.verizon.com/news. To receive news releases by email, visit the News Center and register for customized automatic delivery of Verizon news releases.