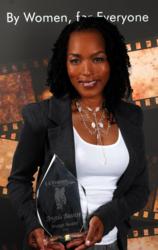 By Women for Everyone... we live by our motto! Live by yours and submit you film before it is too late. 8th Annual LA Femme International Film Festival
Beverly Hills , CA (PRWEB) August 07, 2012
LA Femme Film Festival's Founder, Leslie LaPage, announced today that the 8th Annual LA Femme Film Festival 2012, October 11-14, 2012 will be closing its call for entries for the 2012 season. "This will be an amazing season we will be announcing the celebrity honorees over the next few weeks and we have some amazing films to screen at the festival this year. Our judges have been busy selecting this year's fabulous line up." said Leslie LaPage, Founder and Director of the Festival. LA Femme's call for entries "I Forgot" submission deadline ends August 23rd. The extended deadline is Aug 16th for those that can submit before the final deadline August 23nd under "I Forgot Deadline." Submit now on http://www.lafemme.org or http://www.withoutabox.com
In addition, to screening over 100 films the LA Femme International Film Festival will be hosting a series of industry panels with some amazing sponsors such our writer's panel sponsored by the Writers Guild of America West (WGA) Surmounting the Odds: Fundraising Triumphs From the Trenches: With the ongoing challenges women face in getting their projects financed and off-the-ground, panelists will discuss the innovative and entrepreneurial ways in which they as writers and writer/directors have successfully funded, finished, and promoted their works across various platforms. "We expect this seminar to be standing room only the WGA always brings together some amazing panelists for our filmmakers who are very approachable." Said Ms. LaPage.
LA Femme over the last year has worked closely to provide more opportunities for filmmakers to show their work on a national basis under our entertainment partnerships and sponsorships such as the Documentary Channel. All our Documentaries this year will be viewed by DOC and we expect continued distribution success amongst our filmmakers receiving distribution opportunities. We are currently working with a new Roku channel to platform our filmmaker's content from the shorts to the features and everything in between and get money in the pocket of our filmmakers". Said Ms. LaPage
The festival will run from October 11th-14th, 2012 in Los Angeles, CA screening over 100 films highlighting independent features, shorts, music videos, commercials, special screenings, seminars and much more. The four day event in Los Angeles hosts special networking events at LA hot spots and a gala Awards Ceremony attended by "A" List celebrities. LA Femme is dedicated to celebrating and empowering female artists creating media for a worldwide audience. LA Femme showcases works "by women for everyone" from all over the world. Ms. LaPage states, "No Festival, not even Sundance Film Festival, Toronto Film Festival or Tribeca Film Festival, does what we do for women, we focus on empowering women who create movies in any form all around the world and platform films from the Arab Nations to Zimbabwe and these films get sold."
Previous Celebrity Award Honorees included : Patty Jenkins (Monster), Tasha Smith (Couples Retreat), Lainie Kazan (My Big Fat Greek Wedding), Jennifer Yuh Nelson (Kung Fu Panda 2), Angela Bassett (Green Hornet), Virginia Madsen (Sideways), Marianne Jean-Baptise (Without a Trace), Sara Gilbert (Roseanne), Diablo Cody (Juno), Vivica Fox (Kill Bill), Rosanna Arquette (After Hours), Lea Thompson (Caroline in the City), Penelope Spheeris (Wayne's World) Susan Seidelman (The Boynton Beach Bereavement Club), Maria Conchita Alonso (Mermaids), Jacqueline Bisset (Domino) and many more.
To purchase Full Access VIP Pass go to: http://www.lafemme.org Regular Price ($150) Discounts for WGA and SAG Guild Members for ($59.99). Tickets for individual films are $10.00; Seminars are $20 and can be purchased online or at the door. Events held in Los Angeles. For information on the festival visit our website at http://www.lafemme.org.
Contributing Sponsors Include: (SAG) Screen Actors Guild Affirmative Action & Diversity, SAG Women's Committee, (WGA) Writers Guild America West, Governor's Office of Film and Entertainment State of Florida, The Hair & Makeup Artists Network; Additional Sponsors Include: Pez Candy, LA Colors, Ittybittybra, Journal Junky, Pacific Jewelry Designs, GudFud, Calico Juno Designs, Stephanie Johnson, Green Garmento, PopChips, Slimsticks.
Media Inquiries: To register press credentials for the Festival or to schedule an interview with Leslie LaPage, contact A.J. Adelman 310.650.0220 or email llapage(at)lafemme(dot)org
Visit the website at http://www.lafemme.org
LA Femme International Film Festival "by Women for Everyone" highlights commercially-viable films written, directed or produced "by women for everyone." Now in its 8th year, the festival is solely dedicated to nurturing a new breed of female filmmakers and providing opportunities for those careers to blossom.