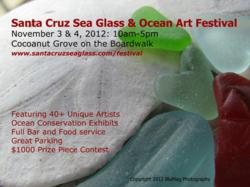 "The Scotts Valley Festival has the most beautiful park setting of any show I do." Krista Hammond, owner Santa Cruz Sea Glass
Scotts Valley, CA (PRWEB) August 07, 2012
Santa Cruz Sea Glass will be showing at the Scotts Valley Art & Wine Festival for their 5th year in a row. Come enjoy fine art, wine & beer tasting, great food, and live entertainment in an open park setting at Skypark in Scotts Valley August 11th and 12th, 10 am – 6pm.
Santa Cruz Sea Glass started in 2006 making unique sea glass jewelry from the ocean worn gems found along Santa Cruz beaches. Today, Santa Cruz Sea Glass is an official partner of the National Marine Sanctuary Foundation, which endorses their green and recycled creations. Along with being featured at over 15 high-end juried art show in California and prestigious La Ventana Resort in Big Sur; Krista Hammond, owner of Santa Cruz Sea Glass even hosts her own festival; the Santa Cruz Sea Glass & Ocean Art Festival. The festival in its 4th year is held every November at the Cocoanut Grove on the Santa Cruz Boardwalk and raises money for ocean conservation.
Krista and her husband, Tony create every unique piece of jewelry, using only real sea glass they have found on local beaches. The couple specializes in what they call "exotic" sea glass. These are pieces found on beaches near Santa Cruz that are the remnants of famous glass-blower James Lundberg, whom tossed pieces out over 40 years ago. "I love showing people our sea glass jewelry, since most people have never seen such amazing sea glass or the high level of craftsmanship that we use in creating each piece. The Scotts Valley Festival has such a beautiful park setting too!" says artist Krista Hammond.
The Scotts Valley Art & Wine Festival will be held at SkyPark- 361 Kings Village Road, Scotts Valley, CA 95066
Time: Saturday, August 11th and Sunday, August 12th – from 10:00 a.m.-6:00 p.m.