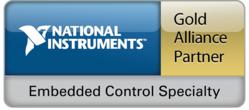 Richardson, TX (PRWEB) August 07, 2012
• G Systems recognized for embedded control expertise

Proven success with embedded control and monitoring applications
G Systems, a leading provider of solutions for automated test and measurement, data acquisition, and control systems, has been selected by National Instruments (NI) as an Embedded Control Specialty Partner. The Embedded Control Specialty recognizes NI Alliance Partners who have demonstrated significant, credible expertise and experience in designing medium to large-scale control and monitoring applications with LabVIEW software and CompactRIO, NI Single-board RIO, and/or NI R Series devices.
"National Instruments has selected G Systems to be an inaugural member of the new Embedded Control Specialty, an elite program which recognizes NI alliance partners who have demonstrated significant and credible expertise in designing NI RIO based embedded systems. National Instruments is excited to continue strengthening this partnership with G Systems and to work with them to solve some of the most complex engineering challenges," said Meghan Kerry, Product Marketing Manager at National Instruments.
As a specialty requirement, G Systems has demonstrated architect-level proficiency with LabVIEW and the LabVIEW Real-time and LabVIEW FPGA software modules.
G Systems has also proven success with numerous embedded control and monitoring applications and has expertise in designing applications that require deterministic closed-loop control. Additionally, G Systems skills include using field-programmable gate array (FPGA) technologies, ensuring that designs are maximized for performance and reliability.
G Systems also met the requirements for business stability, software design capability, LabVIEW developer certifications, expertise in RIO technology, and embedded control and monitoring experience.
Lynda Harrell, G Systems President and CEO, stated, "Being selected for both the Embedded Control Specialty as well as the Electronic Design Specialty is a great honor that recognizes our test and measurement expertise plus our custom and embedded design strengths. G Systems is known for consistently delivering high-quality low-risk solutions. Our custom electronics and embedded systems are excellent examples, and NI recognizes those skills." A recent example of G Systems embedded control systems is a life test control system for aircraft seats for Recaro Aircraft Seating in Fort Worth, Texas. A photograph of the control module is shown in Figure 1.
Readers can learn more about G Systems and embedded control systems at: http://www.gsystems.com.
About G Systems, L.P.
Headquartered in Richardson, Texas, G Systems, L.P. (G Systems) is a leading integrator of test and measurement automation solutions for the aerospace/defense, energy, life sciences, semiconductor, and telecom industries. With over 22 years experience and a proven methodology for design and process, G Systems is known for consistently delivering high-quality low-risk solutions that improve process quality and efficiency from design and prototype development through final production.
G Systems offers services ranging from expert consulting to single or multi-unit turnkey deployment. Capabilities include software, electrical and mechanical design and build, data management and system builds.