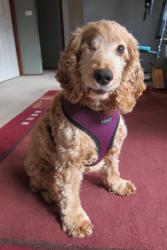 "The reality is that thousands of dogs all over the world live quite happily without their vision and their owners cope very well."
(PRWEB) August 08, 2012
Blind Dog Support today announced the launch of their new website BlindDogSupport.com, a community based support site developed solely for owners of dogs that are blind or visually impaired. The site not only provides a safe haven for owners of blind dogs but also provides relevant information to help owners manage and adapt to their blind dog's condition.
"Many people think that when a dog loses its sight it needs to be put to sleep, but nothing could be further from the truth" says site owner Paula Carnogoy, whose dog Lucy lost an eye to glaucoma and is blind in the second eye. "The reality is that thousands of dogs all over the world live quite happily without their vision and their owners cope very well."
The site has been developed to allow blind dog owners to interact with those in a similar situation and also let them provide regular updates of their dog's condition, upload photos and videos, and to ask questions and comment on the forum.The main goal is to making living with a blind dog easy.
"Our goal at BlindDogSupport.com is to develop a community where people with blind or visually impaired dogs can come to when they need questions answered or just a little support during a difficult time." says Wanda Sowden, co-owner of the site. "The information on the site will give them everything they need to know to feel empowered and confident to look after their dog. And we will be there to support them."
Members can also share their own story on what they and their dog have experienced and upload them to the site. "When I first found out my dog was going blind, the blind dog stories that I found on the internet made all the difference." says Paula. "It gave me hope to see that others were coping just fine with their blind dogs. If they could cope, then so could I."
About BlindDogSupport.com: BlindDogSupport.com is dedicated to providing up-to-date information as well as providing a supportive community for owners of blind or visually impaired dogs. Developed by a full-time blogger and owner of a blind dog, the site aims to create awareness of the plight of many blind dogs and at the same time provide an optimistic environment where blind dog owners can meet. For more information visit: http://www.blinddogsupport.com