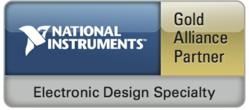 (PRWEB) August 07, 2012
• G Systems recognized for electronic design expertise

Proven success building custom electronics for embedded control and monitoring applications
G Systems, a leading provider of solutions for automated test and measurement, data acquisition, and control systems, has been selected by National Instruments (NI) as an Electronic Design Specialty Partner. The Electronic Design Specialty identifies trusted experts for customers looking to extend and customize NI reconfigurable I/O (RIO) hardware products including NI Compact RIO, NI Single-Board RIO, and NI FlexRIO to meet their application needs.
"NI selected G Systems for the Electronic Design Specialty based on their proven success building custom designs and experience integrating the RIO platforms using LabVIEW tools," said Matt Spexarth, Embedded Systems Marketing Manager at National Instruments.
G Systems provides comprehensive embedded design services for advanced control and monitoring applications. For applications that require specialized I/O or a unique form factor, G Systems builds RIO Mezzanine cards for NI Single-Board RIO C series modules.
G Systems also met the requirements for business stability, software design capability, LabVIEW developer certifications, expertise in RIO technology, and electronics design and manufacturing capability.
Lynda Harrell, G Systems President and CEO, stated, "G Systems is known for consistently delivering high-quality low-risk solutions and being selected for the Electronic Design Specialty is an honor and a testimony to our specialized skills in custom electronic design using the NI hardware platform."
Readers can learn more about G Systems and electronic design at: http://www.gsystems.com.
About G Systems, L.P.
Headquartered in Richardson, Texas, G Systems, L.P. (G Systems) is a leading integrator of test and measurement automation solutions for the aerospace/defense, energy, life sciences, semiconductor, and telecom industries. With over 22 years experience and a proven methodology for design and process, G Systems is known for consistently delivering high-quality low-risk solutions that improve process quality and efficiency from design and prototype development through final production. G Systems offers services ranging from expert consulting to single or multi-unit turnkey deployment. Capabilities include software, electrical and mechanical design and build, data management and system builds.