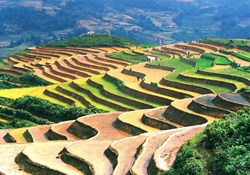 The terraced field in Sapa has been recognized as one of the most beautiful and magnificent terraced fields in the world.
(PRWEB) August 07, 2012
For many years, Sapa has been considered as the top destination in Vietnam, which is really worth visiting. Annually, it welcomes a huge number of both domestic and international tourists. Therefore, Smile Travel Vietnam constantly offers many attractive tours here with the good service and cheap price. Besides, Booking Tours in Sapa with Smile Travel Vietnam, customers can get many other big offers. This year expects to see a larger number of tourists to Sapa. Therefore, Smile Travel Vietnam decides to discount tour packages in a large scale. This has been attracted more and more people who would love to visit this dream land.
Located in the northwest of the country, Sapa is a mountainous district in Lao Cai province, a land of the modest, quiet and natural scene. The natural scenery of this place is made up of both the creativity of people and the topography of the mountains and forests. Immersed in the floating clouds, the town looks like a magical city in mist. It is said that Sapa owns the invaluable sources of the cool climate, nuanced diversity, and fresh air. It also has a variety of hill tribes, rice terraces, lush vegetation, and the highest peak in Vietnam. The terraced field here has been recognized as one of the most beautiful and magnificent terraced fields in the world. Indeed, it is named as "the ladder to the sky".
The place is famous not only for the fine and rugged scenery but also for the cultural diversity. One of the distinctive cultures is Love Market. Boys and girls often gather, perform traditional love songs, dance together, and arrange for their next date.
Especially, there are various ethnic minorities. They appear along the streets with colorful traditional costumes, selling their handicrafts, clothes, scarves, and many other special products.
Many people wish to reach Sapa but they meet some obstacles in price or procedure. Now they are quite free to choose their favorite Tour Package in Sapa with cheap and effective service offered by Smile Travel Vietnam. Spend just USD250 - 750, tourists can get a joyful trip in 6 days and 5 nights from Hanoi to Sapa. Besides, many other tour packages are available for help. People can get access to the website to get more details.