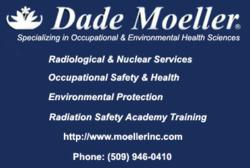 "We are very proud of Debra for being elected as its first President; it is a testament to her knowledge of the subject and her leadership ability."
Richland, WA (PRWEB) August 07, 2012
Senior Health Physicist Debra McBaugh was installed as the President of the Homeland Security Section of the Health Physics Society on July 24. She is the first President of the Section, which was launched at the 2012 Annual Meeting of the Health Physics Society in Sacramento.
The Health Physics Society created the Section after its Homeland Security Committee, established in 2002, had grown significantly in size and scope. Now designated as a Section, the Society's homeland security efforts will have an elevated standing and structure.
"Due to our nation's significant focus on homeland security issues, and their nexus with the science of radiation health physics, there were several highly-qualified candidates for a leadership role in the Section," explained company CEO Matt Moeller. "We are very proud of Debra for being elected as its first President; it is a testament to her knowledge of the subject and her leadership ability."
As President of the Homeland Security Section, McBaugh is responsible for overall administration of Section affairs, which include disseminating information related to homeland security nationally and internationally, providing a forum for vetting homeland security issues, promoting professional development within homeland security programs, and developing consensus standards of practice.
An employee since April 2011, McBaugh is a Certified Health Physicist with more than 30 years of experience in the radiation protection field, including in emergency preparedness and response. She is a Fellow of the Society, a member of the National Council on Radiation Protection and Measurements, and was chairperson of the Conference of Radiation Control Program Directors from 2005–2007.
Dade Moeller provides a full range of professional and technical services to federal, state, and commercial clients in support of nuclear services, radiological, and environmental operations. Dade Moeller employs more Certified Health Physicists than any other company in the United States.