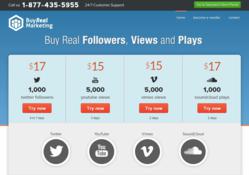 Marketing is the core of businesses like ours, but it is still important to observe the art of moderation and know the boundaries of which we can profit while not losing our valued customers or our reputation as a user-sensitive marketing company
Ottawa, ON (PRWEB) August 07, 2012
Buy Real Marketing, a company specializing in web 2.0 business applications and a leader in the web marketing arena, exhibits disapproval of the way NBC holds its Olympic network prime-time programming and affiliate news that apparently prioritizes pursuit of extra profits than quality viewing experience.
In an article on The Baltimore Sun recounted an experience with NBC programming Saturday night. According to David Zurawik of The Baltimore Sun , NBC aired the first segment of a five-hour prime-time package of the Olympic coverage for Sunday night, presenting Michael Phelps, dubbed the "Golden Athlete," as the icing of a magnanimous cake with people having no idea would steal 62 long minutes of their expected local news. Michael Phelps sat down with interview host Bob Costas on the Saturday night prime-time allotted for the London Olympics, which was sadly rehashed on Sunday night and broken into different parts.
"Monetizing an event like the London Olympics by pushing ads is not at all wrong but if excessive advertising to amass extra sales compromises 62 minutes in which viewers were expecting local news, it would be unappreciated and would likely backfire on the network and the affiliates who are paying for the ads," concludes JP Bisson, Managing Director for Buy Real Marketing, in view of the said article.
"Buy Real Marketing always put clients first before any marketing scheme that could have had earned us more profits. We do without such method because it deviates from our mission of providing a remarkable online marketing experience to clients," he adds.
Michael Phelps is considered the Golden Athlete of Olympics because of the 18 gold medals he helped himself all throughout his swimming career from Sydney to Beijing and now to London. Buy Real Marketing has written about Michael Phelps and his struggles at the start of the London Olympics, which fans can get a full scoop at http://blog.buyrealmarketing.com/news-5723/2012-07-30/is-it-the-end-for-michael-phelps.html.
What provoke the ire of some viewers are the constant appearances of Audi A4 ads that interrupt peak sections of the show. Buy Real Marketing finds it distasteful for a big broadcast network trusted to bring the best news and coverage of the London Olympics to bend at the behest of ads and large sum of money while leaving their clients bereft of quality and value they deserve as viewers.
"We would never do that to our clients. Marketing is the core of businesses like ours, but it is still important to observe the art of moderation and know the boundaries of which we can profit while not losing our valued customers or our reputation as a user-sensitive marketing company," says Business Development - Managing Director, Jonathan Kennedy.
Buy Real Marketing offers services that help clients grow their business through social media. Among the services they offer are Twitter followers, YouTube and Vimeo views, and SoundCloud plays. Customer support is available 24/7 and services are offered with a 100% Money Back Guarantee.
To know more about the company's services, visit their website at http://www.buyrealmarketing.com or contact them at 1-877-435-5955.
About
Buy Real Marketing is owned by Clicking Labs. Clicking Labs is a well-established internet marketing company founded in 2010 by Jean-Patrick Bisson, Diana Quartin and Jonathan Kennedy. The company specializes in driving search marketing and social media traffic, social web app development and conversion optimization. Each product or service specifically helps small/medium website owners increase online visibility and improve online sales.
###