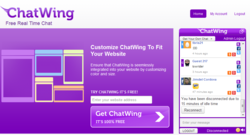 Houston, TX (PRWEB) August 07, 2012
As the 2012 Olympics is nearing its completion, fans are now getting more and more agitated and excited about the athletes who will take home gold medals. These fans have visited hundreds and thousands of blogs, websites, and chatrooms to share their opinions and sentiments. To help fans achieve better communication regarding the Olympics, the Chatwing development team has launched a chat widget capable of large-scale global chat. This chat application can be installed in blogs and websites, and can also provide shortlinks for its users.
The Chatwing free chat box has been known for its overall versatility in thousands of blogging sites. The Chatwing tool can also be installed in three easy steps: registration, customization, and embedding. All of these steps can be accomplished in about twenty seconds, or even less. This rate of simplicity has made Chatwing popular during the early months of 2012, and its developers are still planning to introduce new upgrades that can entice more users.
Chatwing's free shout box has three forms. The most famous is the actual shoutbox form that can display chat messages and users. The second form is the pop-up window, in which the users must click a chat button; they will now be taken in a new window where they can begin chatting. The third and newest form is the direct link URL. With this option, the user can send out links to a designated username. Now, he can start private group chats with his friends. This is useful for Olympics fans who want to create strong fan bases, making communication more centralized. Many bloggers have come to admire the three forms of the Chatwing chatbox.
Aside from the discussion of Olympics 2012, Chatwing development team is eager to help niche bloggers prosper in other areas of the Internet. To stay true to this dedication, the Chatwing team is planning to introduce the free chatbox to other online communities as well. Forums and message boards can benefit a lot from Chatwing's real-time communication offer, connecting thousands of people across the Internet.
About Chatwing.com
Chatwing.com specializes in the new field of website chat. Over years, the Chatwing team has introduced live chat box for hundreds and thousands of blogs. The Chatwing application bridges people from many parts of the world, creating global synergy through the Internet. The shout box can be installed in just seconds, and it can be used for varying purposes such as leisure and Internet marketing. It also allows a user to customize the size, color, and name of the widget. Chatwing is 100% free for everyone.