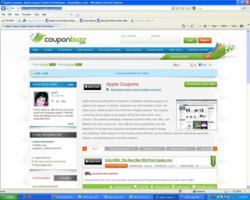 For many college students, finances are a precarious balance between tuition, gas money, and gadget money.
Houston, TX (PRWEB) August 07, 2012
The most recent Apple coupon featured on CouponBuzz.com offers college students a free gift card for $50 bucks in Apps with their purchase of the most recent generation of iPad. The offer can be found in CouponBuzz.com's recently launched section devoted to special offers and coupon codes from the popular electronics retailer. This particular coupon seems to be App-tly targeted to its intended audience, as the college demographic accounts for a significant proportion of App sales. Students are often the first to try out new Apps, and experts at spreading the word through various social networking venues, therefore this Apple coupon for $50 dollars to spend on Apps is turning out to be a remarkable shopping incentive.
"For many college students, finances are a precarious balance between tuition, gas money, and gadget money," quipped Justin Bowen, one of the senior directors at CouponBuzz.com. "Today's featured Apple coupon helps resolve some of this mental dilemma for students by offering them extra cash to spend guilt-free on Apps and games, while scoring one of the most coveted new techno-gadgets. Our site visitors can find out more about this special offer by clicking here, but the gist of it is that any college student is eligible to purchase the latest generation iPad and automatically receive a $50 dollar gift card from Apple."
The offer is part of Apple's continuing commitment to helping college students be successful in their educational goals. It makes sense that owning a mobile computing device like an iPad can help students complete assignments in a timely fashion. In addition, a student's iPad and/or mobile device serves as the central hub of their social life, connecting them via Facebook, Twitter, YouTube, email and a host of other online essentials both to their family and friends back home, but to their new college community as well.
In order to qualify for the Apple coupon for a $50 dollar gift card, the purchaser must either be a current student, a student enrolled for the Fall 2012 term, the parent or guardian of a college student, or a member of staff and faculty at any grade level. The gift card can be used in a wide variety of ways; to download books at iBookstore, music at the iTunes store, and Apps and gadgets from the Mac App Store and the App Store. This special offer can be accessed via a link in the Apple coupon section at CouponBuzz.com, located here http://couponbuzz.com/apple-coupons.html.