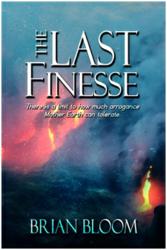 Recently published, The Last Finesse is an intriguing, uplifting and refreshingly believable fact-based novel by Australian author Brian Bloom
Sydney, Australia (PRWEB) August 15, 2012
Written in a recreational style that is reminiscent of the late Michael Crichton, but with a gentler approach to the art of thriller writing, The Last Finesse's brilliantly crafted storyline is as amusing and entertaining as it is educational. Almost incidentally, it brings the reader up-to-speed on some lesser understood concepts that underpin the hot button subjects of nuclear energy and climate change.
Set in Myanmar, the story explores the political and financial intrigue that festers below the surface of day-to-day life, as the decision-makers in power (and their hangers-on) jockey ruthlessly to acquire ever more control. Whilst some might argue that both books are in the genre of conspiracy novels, the author is quick to challenge this view. "Ego and testosterone are the primary drivers of the Western way of life", he explains; "with material possessions typically displayed as badges of success or of social status. Some people might be drawn to the idea of conspiracy but the reality is more down-to-earth: Too much success is often accompanied by sociopathic behaviour and/or testosterone toxicity amongst self-centred decision makers who become intoxicated with power."
Whilst The Last Finesse targets the tire kicking pragmatists in today's world, Beyond Neanderthal, which is set in the Dominican Republic, appeals to the more visionary reader with a spiritual inclination. Together, Mr. Bloom's two books are intended as a "his & hers" set.
"My objective in writing these novels was to facilitate a more positive tenor to discussions about the future by thinking men and women", he says. "There is too much confusing disinformation out there. Too many people feel disempowered, bewildered or depressed in today's world."
There are good reasons to be optimistic according to the author. By way of one example, he points to the tsunami-induced nuclear disaster at Fukushima and contrasts it with the far more serious man-made nuclear disaster at Hiroshima. "How many people are aware of the fact that, since 1945, the population of Hiroshima has grown at an annual rate of over seventy percent more than the rate of world population growth?", he wonders. "How would that have been possible if nuclear fall-out renders surrounding land uninhabitable for hundreds of years, as some in the anti nuclear lobby are arguing?"
Perhaps Mr. Bloom is right. Perhaps the time has come for ordinary citizens to draw a line in the sand, and to take back control of their lives from those who are battling for power supremacy; and where the behaviour of the modern-day gladiators may be too often characterised as devious and unethical. At very least, these extraordinary novels will amuse and entertain most readers with their light-hearted yarns. At best, they will stimulate more optimistic discussion in a world that many believe is spiralling out of control. They are available in all e-book formats over the internet, at less than US$10 a copy. They can be ordered via hotlinks on the author's website at http://www.beyondneanderthal.com