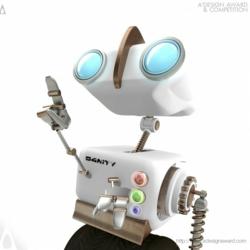 Como, Italy (PRWEB) August 08, 2012
A' Award and Competitions are pleased to share that the design S4nity S4 Ident by Roberto Acuna, Adam Zygadlo, and Rik Barwick has been announced as a winner of the renowned Platinum A' Design Award at Movie and Animation Design Competition chosen as a winner by the transnational jurors of the A' Design Awards & Competitions within a great number of works.
Winner Design: S4nity S4 Ident
Creativitea Design Studio, the creator of the awarded project S4nity S4 Ident demonstrates, "When we were approached by S4nity to design their brand, we sought to differentiate them from other I.T. companies by designing a visually engaging brand using the platform of a lovable and recognizable mascot. S4 was created as the brand's spokesperson, delivering the values and technological know-how behind S4nity." Learn more and download high-resolution photos at: http://www.adesignaward.com/design.php?ID=25117
Team Members for S4nity S4 Ident
S4nity S4 Ident was concieved by Roberto Acuna, Adam Zygadlo and Rik Barwick.
The Platinum A' Design Award
The Platinum A' Design Award is a prestigious award given to top 1% percentile designs that has accomplished an exemplary level of greatness in design. The designs are judged by a panel of three different jury which is composed of Academic, Professional and Focus Group Members. The designs are evaluated with score normalization to remove any biases and are voted on aspects such as functionality, ergonomics, engineering, presentation, innovation, usability, fun details, technology, and any other specific points that could be considered, each of these points are further weighted for different jury groups.
About A' Design Award and Competitions
A'Design Award and Competitions, aims to highlight the excellent qualifications of best designs, design concepts and design oriented products. A' Design Award and Competitions are organized and awarded annually and internationally in multiple categories to reach a wide, design-oriented audience. Learn more at: http://www.whatisadesignaward.com