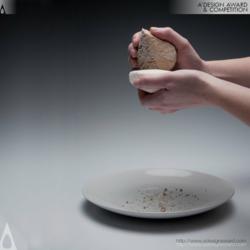 Como, Italy (PRWEB) August 09, 2012
A' Award and Competitions are proud to see that the project Flavoured Flints by Jenni Vigaud and Léa André has been announced as a winner of the noteable Golden A' Design Award at Food, Beverage and Culinary Arts Design Competition elected as one of the winners by the esteemed judges of the A' Design Awards & Competitions within numerous nominations.
More information on Flavoured Flints
Léa André, the project leader of the awarded work Flavoured Flints explains ""Flavoured flints" is a collection of differents food tools made by conglomerates of salt and sugar with added dried extracts of flavour-enhancing fruits, obtained by cryogrinding. Spices, herbs, mushrooms, vegetables, and fruits are included in the ingredients. The flints prompt consumers to season their meals using ancestral techniques : rubbing the two volumes, as big as your fist and faceted, against each other. By choosing to use differents flints, it becomes possible to combine all sorts of flavours. " Learn more and download high-resolution photos at: http://www.adesignaward.com/design.php?ID=24209
Project Members for Flavoured Flints
Flavoured Flints was realized by Jenni Vigaud and Léa André.
The Golden A' Design Award
The Golden A' Design Award is a prestigious award given to top 3% percentile designs that has achieved an exemplary level of perfection in design. The designs are judged by a panel of three different jury which is composed of Academic, Professional and Focus Group Members. The designs are evaluated with score normalization to remove any biases and are voted on aspects such as functionality, ergonomics, engineering, presentation, innovation, usability, fun details, technology, and any other specific points that could be considered, each of these points are further weighted for different jury groups.
About A' Design Award and Competitions
A'Design Award and Competitions, aims to highlight the excellent qualifications of best designs, design concepts and design oriented products. A' Design Award and Competitions are organized and awarded annually and internationally in multiple categories to reach a wide, design-oriented audience. To learn more visit: http://www.whatisadesignaward.com