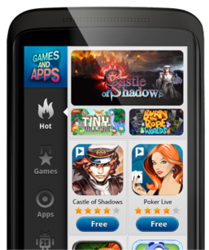 One of our key objectives was to provide a solution for two of the most common problems facing small development teams and their free Android apps, acquiring new users and monetizing
Seattle, WA (PRWEB) August 07, 2012
Everbadge (http://everbadge.com), a mobile performance network for Android, iOS and Windows Phone, announced the launch of a new SDK that will generate free installs and additional revenue for Android developers. The SDK, called UpRise, is now available to all Android developers currently signed up with Everbadge and is also available to new developers who join the network.
With user acquisition costs skyrocketing and paid app sales often dismal, the UpRise SDK makes it cost-free to acquire new users and opens a new revenue stream without interfering with any current banner placements.
Here is how it works: With the end-user's permission, the app will add a new icon on the device home screen that points to the Everbadge GamesandApps.com mobile website. Depending on where the user is located geographically, the new icon will be worth up to $0.05 of free install credits that can later be redeemed for new installs from the Everbadge network. Developers will also earn a 60% revenue share from first-time users that try out other apps and offers from the GamesandApps.com mobile website.
"As part of our initial launch strategy, one of our key objectives was to provide a solution for two of the most common problems facing small development teams and their free Android apps, acquiring new users and monetizing, " said Sam Morris, Co-Founder of Everbadge. "With UpRise, we are addressing both problems with minimum app disruption and respectful engagement with the end-user."
About Everbadge
Everbadge is a mobile performance network located near Seattle, Washington. Since 2009 Everbadge has provided innovative tools for mobile app developers to monetize, acquire new users, and increase user engagement. Everbadge currently has a reach of over 20 million devices worldwide.
For more information on the Everbadge UpRise SDK, please visit: http://everbadge.com/how-it-works
For more information on Everbadge, please visit: http://everbadge.com