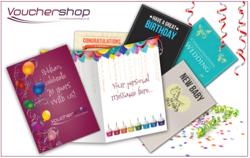 (PRWEB UK) 8 August 2012
The easy to use automated celebration tools helps HR teams across the UK to deliver voucher and gift card based rewards to their staff whenever they have something to celebrate. Employers simply send The Voucher Shop a database containing details of the events they wish to recognise, whether it's birthdays, weddings, long service awards due, a new baby or a new home, and the team then issues a personalised e-shot or card by post on the date specified. The e-shot or card contains a link to The Voucher Shop's secure website where recipients can claim their reward and choose vouchers from over 40 retailers, meaning there's something to suit all tastes.
The Voucher Shop also offers a number of packages, which can be customised to meet any specific needs:
'Birthday Treats' whereby custom designed automated emails are sent to employees on their birthday informing them of the value of their gift and how to redeem;
'Birthday Deluxe' a system that ensures branded, personalised birthday cards containing a voucher cheque are delivered to an employee's desk or home;
'Long Service Awards' which feature a congratulatory pack complete with certificate of achievement, voucher cheque and branded folder for line managers to present in person;
'The Full Monty' which enables employers to celebrate all of the above, plus weddings, anniversaries, new home, baby showers, new arrival, fostering, adoption, Christmas, New Year and other occasions.
Kuljit Kaur, Head of Business Development at The Voucher Shop, said: "The HR Celebration Toolkit makes it simple for employers to recognise particular events in the lives of their employees and is a time saving and fool-proof system for the already very busy HR department. This low-cost yet personal and special way to recognise employees generates a real 'feel good factor' in the workplace and boosts morale and engagement, which has a knock on effect on productivity and ultimately can improve bottom line results."