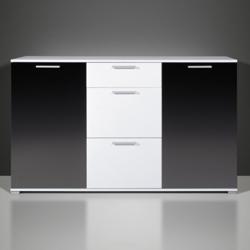 Furniture In Fashion reveals its plan to Launch 30 New Sideboard Models for 2012/2013
(PRWEB UK) 13 August 2012
FurnitureInFashion, one of the leading online retail stores in the UK is proud to reveal its plan to launched 30 new sideboard models for 2012/2013. The 30 new sideboard models will establish more depth in the already extensive range of sideboards at FurnitureInFashion. FurnitureInFashion is expanding its manufacturing plant in Germany as well to cater the production of new furniture items including the sideboards. The team of designers at FurnitureInFashion is continuously working towards introducing new and unique design concepts. Their exquisite designs are going to be translated in sideboard models this time around. The owner and Managing Director of FurnitureInFashion while sharing his plan of launching new sideboard models said,
"FurnitureInFashion is seeing an increase in its sales over the past 6 months. It's time for us to capitalize on this increase and expand our catalogue in order to target more customers. Our new sideboard models will offer more durability, innovation, storage facility and style to our customers. FurnitureInFashion has already worked out an affordable price structure for the new models of sideboards and we promise not to disappoint our customers with our quality and price combination."
The new sideboard models have be designed to provide maximum storage facility. They are spacious allowing customers to cater for all their storage news. These sideboards can be displayed in any room and can store almost anything. The 30 new sideboard models for 2012/2013 are going to be available in materials including oak, walnut, wood, and mahogany, glass, chrome, Monza and several other materials. Many of these sideboards will be given a finish of veneer, high gloss and brushed stainless steel. The new models of sideboards will provide greater and sufficient storage for table linen, cutlery and other dining related items when not in use. Mr. Asad said, "FurnitureInFashion will use finest quality material in the construction of these sideboards. We will deliver attractive designs, durable finish and sturdy frame in our new range of sideboard models."
Majority of these sideboards will have 2-3 drawers and shelves as well in order to provide a space to display and store different items. Some of the models will have 2-3 open compartments for placing vases, books, photo frames, houseplant and other ornamental things. The doors and drawers will be provided with high quality and stylish steel and metal handles in order to add elegance. Some sideboards will have drawers and doors without handles. This will ensure soft opening mechanism which will add elegance and modern element in a dining room.
Mr. Asad revealed the new models of sideboards, "FurnitureInFashion is going to introduced more ranges in Wenge sideboards. Wenge sideboards can bring luxury and charm to your home by taking very little space of your home. The sideboards in Wenge range come with graceful metal handles that will suit every modern homeowner's taste." He also added, "FurnitureInFashion is also extending its Arturo Oak range of sideboards. Our Arturo range is very popular because it provides a stunning combination of solid oak and glass top. This range has an air of sophistication and quality. The beautiful amalgamation of oak, glass and chrome will bring warmth in your living and dining rooms with a very welcoming ambiance." All these sideboards are going to be available at affordable prices with enduring beauty. FurnitureInFashion will ensure ultimate quality, attractive designs and durable finish in all its sideboards models.
About FurnitureInFashion
FurnitureInFashion is a leading online retail store in the UK. It has a warehouse and manufacturing plant based in Germany and delivers furniture directly from its warehouse to its customers. It suppliers over 7000 furniture products for living room furniture, bedroom furniture, dining room furniture, hallways, kitchen, bar and office furniture along with lightening and other home solutions. For further information and details visit, http://www.furnitureinfashion.net