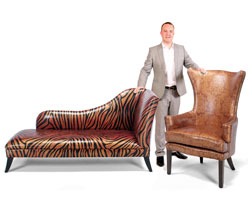 Speaking at the launch of the new Futura Artemida leathers, Chesterfield Sofa Company director, Ian Maguire, expressed his delight about the new creative designs
Manchester (PRWEB UK) 9 August 2012
The Chesterfield Sofa Company specialises in delivering the finest traditional British craftsmanship at affordable prices. It offers a comprehensive selection of the finest leather and fabric chesterfield sofas and settees, and guarantees that every customer will be delighted with the elegant, stylish and timeless pieces created for them. All its chesterfield sofas, settees and chairs are hand-built by time-served craftsmen in its workshop in Lancashire, using only the finest quality leathers, woods and fabrics. The company also manufactures bespoke, custom-designed furniture using unique and inspirational Artemida seri-graphed leathers for customers searching for a more contemporary and individual look.
The Futura Artemida range is unique. Its range of inspirational designs and surface textures offers endless possibilities for anyone wishing to create distinctive contemporary furniture. The Chesterfield Sofa Company's stylish application of Artemida's high-quality leather designs has proved to be a great success not just with the public, but also with commercial designers looking for a sophisticated contemporary look and ambience.
The Chesterfield Sofa Company can now offer its customers forty individual classic or contemporary designs of Artemida seri-graphed leather. These leathers come in an extensive range of colourways embracing everything from vibrant metallics to the most subtle damask contrasts. The entire range is produced on high-quality hide to assure pattern uniformity, and most of the designs are available to contract specification Crib 5.
The Artemida leather collection is unique and extensive and comes in a variety of different shades and colours. Designers can choose from the Diores or Diores Negativo leather, a fine quality nubuck leather with an attractive contrasting damask print; the Pallas, a distinctive shaded metallic leather suited to all types of high-class upholstery; the Apollo, a damask printed leather with a smooth finish; the Hermes, a fine quality metallic reptile-printed textured leather; or the Selene, a high quality wax/oiled aniline leather. When the Selene leather is stretched, the surface fades to unveil the pattern underneath.
Speaking at the launch of the new Futura Artemida leathers, Chesterfield Sofa Company director, Ian Maguire, expressed his delight about the new creative designs, and suggested that these would now enable the company to look for more new, exciting and creative solutions in order to push the boundaries of contemporary furniture design even further:
"We're really impressed with the new design additions. Artemida's designs have allowed our customers to create bespoke upholstery that takes leather furniture to new levels of sophistication and we're sure that the new collection, which brings the Artemida designs we offer to forty, will inspire even more people to take a critical look at their existing interior design.
"Wherever style and sophistication is an important element of the customer 'offer', such as in high-end restaurants, bars and in boutique hotels, we're generating tremendous interest from those specifiers and designers who are keen to explore how the installation of leather furniture built by Chesterfield Sofa Company and created from Artemida designs can help to create a unique and exciting ambience.
"The possibilities are endless. Artemida makes fabulous wall panels as well as furniture which the Chesterfield Sofa Company can use to create bespoke pieces of virtually any shape or size, quickly and economically."