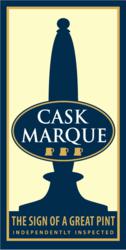 (PRWEB UK) 8 August 2012
With London 2012 well underway, it appears Olympic fever has not only hit the nation but the real ale industry too.
In celebration of this great sporting event, and waving the flag for Team GB, brewers up and down the country have jumped on the bandwagon and launched their very own Olympic-themed ales.
From these, ale accreditor Cask Marque has chosen its top 10 gold medalists, all Ale-ympic golds to get you in the sporting mood.

Adnams - 'Flame Runner' (3.9%)
Greene King – 'Personal Best' (4.3%)
Butcombe – 'Going for Gold' (4.4%)
Hydes – 'Fit as a Fiddle' (4.2%)
Moorhouses – 'Running Wild' (3.9%)
Robinsons – 'GB' (Ginger Beer) (3.6%)
St Austell – 'Podium IPA' (4.0%)
Thwaites – 'Torch Light' (4.4%)
Thwaites – 'Naked Runner' (3.8%)
Wadworth – 'Red White & Brew' (4.0%)
So with London flooded with tourists and the country reaching fever pitch, for some it might seem like the perfect time for a trip to the pub and a well-earned pint.
More ales can be discovered using Cask Marque's CaskFinder app, which helps pub-goers and Olympic visitors explore the variety of ales available, where to savour them as well as take part in the 'World's Biggest Ale Trail'.
With London boasting over 800 Cask Marque pubs, the app being used 50,000 times a month and 52% of Cask Marque visits taking place in London alone, you'll have to make sure you're first out of the starting blocks before they call last orders.
The 'World's Biggest Ale Trail' feature of the app challenges ale-lovers to visit as many pubs as they can and register their efforts by using a smartphone camera to scan QR codes placed on Cask Marque certificates in accredited pubs.
To start your very own 'World's Biggest Ale Trail', download the CaskFinder app HERE.
For any further information please contact Sarah Stevenson or Rachael Jones at Seal on 0121 616 5800 or rachaeljones@seal.uk.com
Additional Information
CaskFinder, available for iPhone and Android, is designed to help consumers enjoy and appreciate Cask Ale wherever they may be in the UK! Combining data from the Cask Marque pub quality inspection scheme and the Cyclops® beer standardisation initiative, both industry sponsored bodies, CaskFinder has a host of features to aid customers in the pursuit of ale drinking.
On top of the NEW World's Biggest Ale trail, CaskFinder has a range of features for any beer enthusiast:
CaskFinder uses the location-awareness of the smartphone to show customers their nearest Cask Marque award winning pubs – 8,000 to choose from
Details of the cask beers on sale in each pub
Description of over 1,000 beers from 250 brewers using Cyclops Beer database
Rate beers to help other ale fans
Find similar beers
Beer Festivals – a complete list with contact details, admission prices and maps
Beer Blog – from award winning writer, Pete Brown, that gives you an inside track on the beer industry
Beer of the Week – a featured beer of interest
New Bar code reader for bottled beers – try it on your Tiger beer to get the full Cyclops descriptors and suggested beers for you to try
Cask Marque was set up in 1998 to promote cask ale but in particular beer quality.
The 8,000 award winning Cask Marque pubs receive 2 unannounced visits a year and the qualified assessors check up to six beers on the bar for temperature, taste, appearance and aroma. Any adverse consumer feedback triggers a mystery drinker visit.
The app allows consumers to keep a pub guide in their pocket with stacks of useful information. Currently 46% of consumers who drink cask ale recognise the Cask Marque plaque (NOP survey).