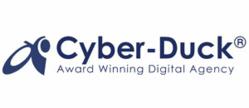 London, Greater London (PRWEB UK) 9 August 2012
Award winning digital agency Cyber-Duck Ltd is proud to announce the launch of a bespoke Web App for Dawson Media Direct (part of Smiths News Plc), the UK's leading supplier of newspapers and magazines for the airline and travel industry. The web app, called Digiredoo, is a new digital reader service.
Digiredoo allows VIP travelers in the Eurostar lounge to read publications such as Sphere, Podium and The Financial Times for free via laptops, tablets and smartphones. Using the Eurostar Wi-Fi network, the traveler can download the publication to their device and continue to read it offline when they continue their journey. The Web App is adaptive, meaning that the User Experience (UX) changes to suit different screen resolutions of laptops, tablets and smartphone.
Adaptive Web Design is based on HTML5 technology and User Centred Design (UCD) methodologies so graphical user interfaces, input mechanisms and the content change dynamically depending on the device regardless of its native technology. With Cisco predicting that by 2016 there will be 10 billion mobile connected devices around the world, an adaptive Web App was the ideal solution for the project.
"We are very pleased with how this project turned out", explains Neil Dawson, Cyber-Duck's User Experience Designer. "Adaptive Web Design is embedded within our design ethos. The Web App produced for Dawson Media Direct is a perfect way for travelers to interact with exciting news publications regardless of the device, browser or OS (Operating System) they are using."
Digiredoo is the first service of its kind for the UK travel industry in allowing users to obtain newspapers and magazines from a variety of sources that can be viewed, downloaded and enjoyed while continuing their journey. Kevin Birchmore, Head of Technology at Dawson Media Direct stated: "Less and less people are carrying bulky computers with them when travelling. As well as catering for laptop travelers, Dawson Media Direct wanted to create a Web App that also enables tablet and smartphone travelers to read news regardless of whether they are using iOS, Android, Windows or Blackberry devices. We are happy to be the first in the industry to offer Web App solution that is not device dependent".
Dawson Media Direct will be planning more rollouts to other lounges very soon in partnership with Cyber-Duck in 2012.
Notes to Editors
A demo of Digiredoo can be seen at: http://www.digiredoo.net/demo. As this is for demo purposes only it does not display the list of publications available to Eurostar lounge visitors.
About Dawson Media Direct
Dawson Media Direct has over 150 airline clients and many more publisher relationships than any other content service provider. With over 30 years in print media fulfillment across the globe it is uniquely positioned to deliver complementary ePublications, newsstand apps and digital editions to the travel industry worldwide.
The DMD media distribution network covers Europe and the Middle East, Asia and the Americas, and its digital innovation to date embraces both content and platform solutions.
http://www.dawsonmediadirect.com
About Cyber-Duck
Established in 2005, Cyber-Duck is a leading independent digital agency with a world-class reputation, working with global brands including The European Union, Imperial Tobacco Plc and Arsenal FC. Cyber-Duck's core services are Web & Mobile Production, SaaS Technology, UX Consultancy, Branding and Marketing. Cyber-Duck has won some of the most sought after industry awards including Webby Awards, the Construction Marketing Awards, the Davey Awards, the Communicator Awards, the Interactive Media Awards, and the W3 Awards.
http://www.cyber-duck.co.uk