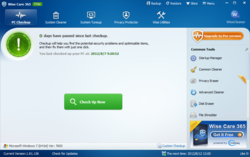 Wise Care 365 is a bundle of important registry, disk, and other system utilities for PC users. Easy to use and effective, Wise Care 365 is the good solution to improve your PC's performance.
(PRWEB) August 10, 2012
WiseCleaner.com announces the immediate availability of Wise Care 365, a practical, economical and automatic Windows application that acts like a skilled PC technician at a fraction of the cost of hiring a technical consultant. Combining the advanced functionality of the company's flagship products Wise Disk Cleaner and Wise Registry Cleaner, Wise Care 365 helps to speed up sluggish PCs, extend their life, and protect users' privacy.
Unlike similar software applications, Wise Care 365 has been optimized for speed and efficiency. Scanning, cleaning, and tuning up user's PC using Wise Cleaner 365 takes a fraction of the time required by other programs. Speed up slow PC, keeping PC in good working condition and users' privacy safe are Wise Care 365's main mission.
Wise Care 365 has five major functions: PC Checkup, System Cleaner, System Tuneup, Privacy Protector, and Wise Utilities.
PC Checkup inspects and verifies the running condition of the PC. PC Checkup identifies problems and shows quick-fix solutions.
System Cleaner cleans invalid Windows registry entries. It also cleans useless files, download history, browsing history, form history, invalid shortcuts, traces, cache, cookies, passwords, Windows components, and files with specific extensions. By eliminating useless files, System Cleaner makes Windows system run faster.
System Tuneup optimizes PC's performance, defrags disks and the Windows registry, and manages the startup process as well as services.
Privacy Protector erases user's browsing history and makes it impossible for people to see which pictures viewed, which movies watched, which files accessed, and which web pages visited. Privacy Protector also prevents deleted files from being recovered, and generates strong passwords for users.
Wise Utilities gives users a common interface for all of your Wise Care 365 functions. In addition, it lets user creates a portable version of Wise Care 365. Also included are the restore function, scheduler, avatars, skins, help files, and technical support.
Key features and functionality:
Combined Wise Disk Cleaner and Wise Registry Cleaner
Remaining the unsurpassable scanning speed in the world
Able to find out more hidden issues than other utilities such as CCleaner, Advanced System Care, etc.
Added PC Checkup to show the whole PC health condition
Added various fantastic skins and avatars to improve the user experience
Added Privacy Protector, such as privacy eraser, disk eraser (advanced), file shredder, and password generator to guard users' private data
Added Wise Boot Booster to shorten PC boot time
Added Startup Manager to tune up startup&services
Initial support of Win 8
System requirements:
XP, Vista, Windows 7, and Windows 8 (both 32-bit and 64-bit).
Price and availability:
Wise Care 365 Free offers basic PC care and maintenance. Wise Care 365 Pro, priced at $39.95(US) for up to 3 PCs, offers the full suite of tools and functionality.
Download Wise Care 365 from: http://www.wisecleaner.com/wisecare365.html
About Wise Care 365
Wise Care 365 is an all-in-one tuneup utility. It's a skillful and personal PC technician who is on-call 24 hours a day to clean, fix, optimize, and protect his master's PC.
About WiseCleaner.com
WiseCleaner.com is dedicated to delivering simple, effective, free and affordable system utility software for Windows computers. By now WiseCleaner.com has launched Wise Care 365, Wise Disk Cleaner, Wise Registry Cleaner, etc. which have been recognized by PCWorld, CNET, etc., downloaded millions of times, and distributed worldwide.