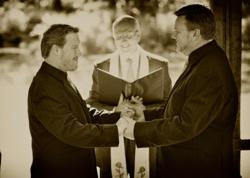 NBC NEWS - "EnGAYgedWeddings is the Best Place to Find Gay Friendly Wedding Vendors".
Port Charlotte, FL (PRWEB) August 07, 2012
Forbes Magazine recently reported that if marriage equality was legalized on a national level it would boost the United State's economy by a whopping 9.5 Billion dollars a year. Yes – in one year.
New York just celebrated their one year anniversary of legalizing gay marriage. It has been a good year for the New York economy.
MikeBloomberg.com reported, "NYC Same-Sex Marriages Generated $259 Million in Economic Impact the Fist Year." (That is New York City alone) At least 8,200 same-sex marriage licenses were issued in the first year. More than 200,000 guests traveled from outside of the city to same-sex marriage events. Approximately 235,900 hotel room nights were booked. The average LGBT couple spent $9,039 for their wedding celebration in New York. 31 percent spent $10,000 or more. More than 40,000 wedding Invitations were printed and over 47,445 wedding favors were purchased.
What makes EnGAYgedWeddings.com unique compared to the other online LGBT wedding directories is that there is NO automated sign-up process for LGBT wedding advertising. The owners of EnGAYgedWeddings.com personally speak to every wedding vendor. Each wedding professional is pre-qualified and approved before they are listed on the EnGAYgedWeddings.com wedding directory. EnGAYgedWeddings.com makes 100% certain that the wedding vendors are LGBT Friendly, so that the couples can have exactly what they deserve - the very best wedding planning experience possible. And the best part? EnGAYgedWeddings.com actually works.
Now here is where EnGAYgedWeddings.com comes in, EnGAYgedWeddings.com has more couples coming to the website to search for LGBT Friendly Wedding Vendors than EnGAYgedWeddings.com has wedding professionals to accommodate them. EnGAYgedWeddings.com is in need of LGBT Friendly Wedding Vendors in the legal same-sex marriage states. A large percentage of our wedding vendors in legal same-sex marriage states have tripled their small business income in the first six months of advertising with EnGAYgedWeddings.com. Why? 97% of Every "Keyword Phrase" that EnGAYgedWeddings.com targets is on page one of Google. 75% of Every "Keyword Phrase" that EnGAYgedWeddings.com targets is #1 on Google!
Crain's Business Reported, Emily Lester Cahnmann, president of EM Event Management, has shelled out more than $700 to tout her event-planning services, on a site called EnGAYgedWeddings.com. Ms. Lester's efforts have led her to plan 16 same-sex weddings so far. From July through September of this year, she has three same-sex bookings on her to-do list. And much like her straight clients, same-sex partners typically spend as much as $50,000 on her wedding services with 120 and 150 guests, she said. As a result, gay weddings now account for 20% of her small business revenues.
Kevin Bain A small business owner and wedding Officiant in New York City, booked over 20 weddings through EnGAYgedWeddings.com in the first 6 months listed on our site, 3 of which were from couples living outside of the United States.
EnGAYgedWeddings.com is quickly becoming the # 1 On-line LGBT Wedding Directory on the planet - with couples & Vendors from Canada, Mexico, Scotland, UK, Guatemala, South America, as well as the U.S. of course.
For interviews and for more information about EnGAYgedWeddings.com and how gay weddings can help save the U.S. economy and local small businesses – please contact Michael
Michael was born and raised in Southington, CT and now resides in South Florida. Michael has more than 25 years experience as an On-Air Radio & Television Talent working most recently at Y-100 Radio Miami & 97.9 WRMF West Palm Beach.
(561) 929-9929
(855) IDO-LGBT