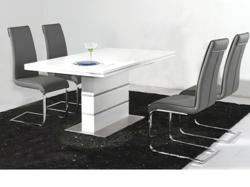 FurnitureInFashion Announce the Launch of Modern High Gloss Dining Table sets
(PRWEB UK) 17 August 2012
FurnitureInFashion, an online retail store in the UK, is very pleased to announce an extension in its dining table sets with the launch of modern high gloss dining table sets. The company has an extensive collection of dining table sets and other dining room furniture. To add a touch of elegance, modern and high end in the dining rooms, FurnitureInFashion is now launching modern and bold high gloss dining table sets with very uniquely designed chairs. The new modern dining table and chairs range compliments the existing unique and stylish range of modern dining tables at FurnitureInFashion. Available as both 4 and 6 seated dining sets, the new modern high gloss dining table sets are also available with a choice of chairs.
The owner and MD of FurnitureInFashion Asad Shamim said, "We plan to release new products continuously throughout 2012. It's our aim to provide our customers an extensive and versatile range of products to suit all budgets and tastes. With the addition of modern high gloss dining table sets range, FurnitureInFashion has increased the buying options for its customers."
FurnitureInFashion is offering many designs and styles in modern high gloss dining table sets. The most recent addition to high gloss dining table sets range is brand new Lexus high gloss range. It is a chic collection of furniture which is inspired by the subtle elegance of contemporary Italian design concepts. It is a fantastic range with current yet chic element and combines both great quality and flawless design. One of the models in this range is a black high gloss dining set with glistening black stained glass top and chrome crosspiece with high gloss black legs. This contemporary design blends wood, glass and metal for exquisite look. The glass in this dining table is a tempered safety. It comes with 6 chic but practical leather chairs available both in white and black colors.
Among the modern high gloss dining tables, an enchanting Chaffee high gloss dining table with 4 chairs can be a great addition to any dining room. It comes with black faux leather chairs with classic stainless steel finished legs. The rectangular table with 4 black faux leather chairs gives a very modish look. Mr. Asad said, "All our products in high gloss range are high end and modern with bold designs and combinations. Our team of designers at FurnitureInFashion has worked very hard to carve beautiful and modern designs in order to provide complete home solutions for modern living." Another great dining table set in the modern high gloss range is contemporary Giovanni rectangle dining room set with four light grey dining chairs. It has a light grey gloss design with stunning chunky legs. The top of the table has a 6mm tempered safety glass.
One of the stunning additions to the modern high gloss dining table sets is Liberty high gloss dining table. This dining table set comes with 1 chair, 1 bench and 1 bench with back for comfort. This table has black faux leather bench and chairs with classic chrome finished legs and table with white finish. This piece can be a great addition to any fashionable home décor.
Mr. Asad said, "These and many other modern high gloss dining tables are part of our extensive existing collection. Our range of dining tables will become part of our customers' homes catering birthday buffets, Christmas dinners and dinner parties."
About FurnitureInFashion
FurnitureInFashion is an online retail store located in the UK and supplies over 7000 products with a free delivery service in the UK. The company has the largest collection of entertainment ranges and other furniture items including furniture for living room, dining room furniture, bedroom furniture, hallways and office. For further information and details, visit: http://www.furnitureinfashion.net