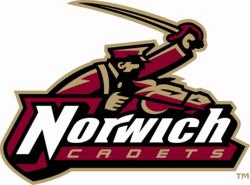 I couldn't be happier for these players (Annis and Clark as well), who have been recognized as the best in the nation.
NORTHFIELD, Vt. (PRWEB) August 07, 2012
Three Norwich rugby standouts have been named to the USA Rugby Division II All-American team for the 2011-2012 season.
Katie Hathaway '12, Hannah Bushey '12 and Rose Bernheim '14 were each rewarded for their outstanding seasons in helping lead the Cadets to the 2012 USA Rugby Division II National Championship title.
This announcement by USA Rugby comes in the wake of Rugbymag.com's announcement of their All-American team, which named NU's Baylee Annis and Joya Clark All-Americans as well. With five overall All-American selections, Norwich stakes its claim as one of the top individual player pools in the nation.
Hathaway led the Cadets as team captain in her final campaign over the 2011-12 season. She was a starter all four years and tallied a Norwich record 87 caps (matches played) over her heroic career. Her 51 tries places her in the top five all-time on the Norwich try scoring chart. Katie has already represented the USA on the international level, having represented the USA in the 2009 Nation's Cup. She was a standout and All-Tournament selection on the Norwich 7's roster as well as the MVP of the National 15's Championship.
Bushey earns her second All-American nod, having previously earned the honor in 2011. Her three-year Norwich career saw her play in 58 matches and score an astonishing 54 tries. This is the all-time record for a forward and is close to the best try scoring career in Norwich history. Hannah was the prototype flanker, modeling her game on All-Black great Ritchie McCaw – she was a force at every tackle contest and a devastating tackler. Hannah also excelled on the 7's field, earning All-Tournament honors at the 7s National Championships.
Bernheim has led Norwich in try scoring over the last two years. Her 51 tries in just 46 games is extraordinary for a player who came to Norwich with no rugby background, according to NU coach Austin Hall. Her speed and deceptive running is legendary in the Northeast as teams do everything they can to shut her down. Rose has recently joined the National U-20 player pool and has started three matches at fullback in a USA jersey. After being selected as MVP of the National 7's Championship, Bernheim has also participated in the Olympic 7's player pool.
"I couldn't be happier for these players (Annis and Clark as well), who have been recognized as the best in the nation," Hall said. "The beauty of their game and their selection is that each of these players is far more proud to be a national champion than an All-American. I give them the full credit. I have simply provided them with the time and space they need to play the game with their natural talents and grow as players and people along the way."
Norwich University is a diversified academic institution that educates traditional-age students and adults in a Corps of Cadets and as civilians. Norwich offers a broad selection of traditional and distance-learning programs culminating in Baccalaureate and Graduate Degrees. Norwich University was founded in 1819 by Captain Alden Partridge of the U.S. Army. Norwich University is the oldest private military college in the United States of America and the birthplace of our nation's Reserve Officers' Training Corps (ROTC). http://www.norwich.edu