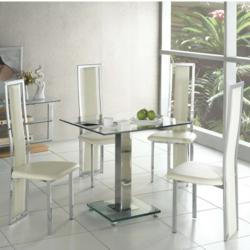 (PRWEB UK) 18 August 2012
FurnitureInFashion, a leading online retail store in the UK, has become the new leader of dining room furniture in the UK for providing an unlimited range of furniture products for dining room. FurnitureInFashion is providing full home solution for dining rooms with its impeccable and invigorating dining room furniture ranges. The company provides dining table sets with chairs, dining tables without chairs, shelve units, dining chairs, seating chairs, sideboards, glass tables, stone dining tables and separate wooden dining tables. The full range dining table furniture is available at very affordable prices. The team of designers at FurnitureInFashion has incorporated traditional, modern, contemporary and retro styles in the dining room furniture ranges which have provided people with ample options to choose from.
The owner and Managing Director of FurnitureInFashion Asad Shamim said, "FurnitureInFashion is aiming to become leader in all furniture categories. After providing maximum solutions for living room, FurnitureInFashion has excelled in manufacturing the most invigorating and unique dining room furniture products with an extensive range. The durability, sturdiness and sustainability of our dining room furniture have made FurnitureInFashion the new leader in the UK. We have witnessed an overwhelming increase in our sales of dining room furniture which has positively affected our position in the online retail market."
FurnitureInFashion is offering different ranges in the dining tables with chairs. It is offering 4 seater glass dining table sets, 4 seater wooden dining table sets, 6 seater dining table sets, 6 seater wooden table set, 8 seater glass dining table sets, 8 seater wooden dining table sets, stone dining table sets and budget range dining sets. The dining tables offered by FurnitureInFashion are available in rectangular, oval, round and square shapes. These tables are available in wood, glass and stone with 4, 6 and 8 chairs. FurnitureInFashion offers all sizes and shapes in dining tables in order to accommodate small or large apartments and houses. Talking about the dining table and chairs ranges, Mr. Asad said, "FurnitureInFashion is also offering a dining table with 2 chairs as well. Our customers can now have designer and modern dining table with two chairs and easily accommodate it without any space problem."
FurnitureInFashion is offering an exquisite range of stone dining table sets. The craftsmen in German based warehouse have beautifully carved marble into dining tables. The marble is available in different colors like black, white, cream, brown and several other contemporary colors. The designers at FurnitureInFashion have also worked on manufacturing retro style dining tables by using marble and other stones. FurnitureInFashion also provides separate glass and wooden dining tables. These tables can be mixed and matched with existing chairs by homeowners.
In order to give a complete dining experience, FurnitureInFashion has established a very unique and stylish range of shelving units. These units comprise of single cube storage to 5 shelf storage unit. These shelving units can make a great addition to any dining room and can be used to display different ornaments. FurnitureInFashion also provides funky, modern and contemporary chairs as well that can be used to provide extra seating to guests. The seating chairs are available in interesting shapes and colors and can add refreshing element in a dining room. To provide more storage in the dining room, FurnitureInFashion is also offering sideboards in wood, glass, chrome, metal, walnut and other materials. Due to increase in demand, FurnitureInFashion is launching another 30 models of sideboards. Mr. Asad also added, "Our mission is to provide extensive dining room ranges to our customers so that they don't have to visit any other shop. FurnitureInFashion is a one a stop shop for every homeowner."
About FurnitureInFashion
FurnitureInFashion is a leading online retail store in the UK. It has a warehouse and manufacturing plant based in Germany and delivers furniture directly from its warehouse to its customers. It suppliers over 7000 furniture products for living room, dining tables, dining table and chairs, hallways, kitchen, bar stools and office along with lightening and other home solutions. For further information and details visit, http://www.furnitureinfashion.net