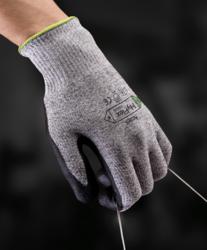 The use of water-based polyurethane in our HyFlex 11-435 gloves is a major advance in long-term safety and care for the environment,"
RED BANK, N.J. (PRWEB) August 09, 2012
Ansell combines safety with a leap forward in environmentally friendly production with the launch of HyFlex® 11-435, cut-resistant work gloves made with water-based polyurethane. Using water instead of dimethylformamide (DMF) solvent in the manufacturing process, HyFlex 11-435 gloves enhance safety and dexterity for workers in a variety of industries. In addition, the polyurethane does not penetrate inside the gloves, resulting in a softer feel on the skin.
HyFlex 11-435 gloves are made with a combination of glass fiber and nylon yarn plaited with Dyneema® fiber, which provides users with ANSI Level 3 and EN Level 5 cut protection. This combination of fibers also provides wearers with excellent breathability and a cool feeling during use. The seamless construction and polyurethane coating ensure better comfort and flexibility. HyFlex 11-435 gloves are silicone-free and rated anti-static ANSI ESD STD for improved safety in critical areas.
"The use of water-based polyurethane in our HyFlex 11-435 gloves is a major advance in long-term safety and care for the environment," said Laura Proctor, Ansell Senior Marketing Manager. "These gloves are Ansell's answer to the customer's call for a more stringent and environmentally safe manufacturing process without compromising on the safety of workers."
The HyFlex 11-435 gloves are ideal in a variety of industries, including automotive, transport equipment, machinery and equipment, metal fabrication and glass.
The gloves are available in sizes 6-11 to accommodate the hands of almost any worker. The gray color masks dirt for longer usability, and their excellent washability ensures a prolonged lifetime.
For more information about Ansell HyFlex 11-435 gloves or other protective gloves, apparel and safety solutions, visit http://www.ansellpro.com or call 800.800.0444 in the US. In Canada, visit http://www.ansellcanada.ca or call 800.363.8340.
About Ansell
For many decades, Ansell has innovated and led the hand protection and safety apparel industry. The company offers comprehensive business solutions to help manufacturers meet and exceed PPE standards. With its regional U.S. headquarters in Red Bank, N.J. and operations in Canada, Latin America, Europe, Asia and Australia, Ansell manufactures and markets six core occupational safety brands – HyFlex, PowerFlex, Vantage, Sol-Vex, AlphaTec and Touch N Tuff gloves. Ansell serves a wide range of industries, including chemical manufacturing and refining, automotive, food processing, general industrial, pharmaceutical, pulp and paper, construction, white goods, semiconductor and electronics manufacturing and primary metals.