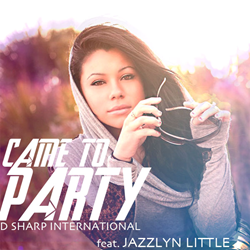 Jazzlyn Little is a YouTube sensation with over 5,000,000 total video views and counting...
New York, New York (PRWEB) August 08, 2012
Platinum Label Entertainment releases Jazzlyn Little's first smash single, "Came To Party". The buzz is starting to build; The X Factor's L.A. Reid says Jazzlyn has a "super star voice." Simon Cowell says she is "one to watch" and believes she can be a "World Star." Paula Abdul says she is a "star and a little brilliant gem." After her moving X Factor performance she won the hearts and minds of all the X Factor judges, and gained millions of fans worldwide. Immediately following Jazzlyn's amazing X Factor run, her manager, Kingsley Gardner, contacted record producer D-Sharp International of Platinum Label Entertainment.
Jazzlyn was then given the opportunity to travel to the Times Square New York Recording Studio of Platinum Label to meet with the team and begin the recording and development process. "After meeting Jazzlyn in person, we knew we were meeting someone special, she is incredibly talented and easy to work with," says D-Sharp "she is a natural on stage as well as in the studio, we are thrilled about the release of her first official single 'Came To Party'." D-Sharp International 's high energy, "pump it up" electronic dance music (EDM) song "Came To Party" features Jazzlyn's signature voice; powerful yet soulful. Her vocals are heard flowing seamlessly over big screeching synth leads, pumpin' baselines and heavy four on the floor drums. An additional record featuring Jazzlyn's vocals, titled "Alive" will also appear on the Platinum Label Presents D-Sharp International: FOREVER RICH FOREVER YOUNG project featuring established as well as hot new up and coming acts.
Jazzlyn is already a YouTube sensation with a whopping 5,000,000+ total video views and has already begun touring in her home state of Florida. At the Miami Heat vs. Orlando magic game earlier this year she stunned audiences with her amazing rendition of the National Anthem and is slated to perform at upcoming MLB games.
The HOT NEW SINGLE "Came To Party" will be serviced to radio beginning August 14th and is available on iTunes CLICK HERE
Watch Jazzlyn's breakthrough performance of Mary J. Blige's "I'm going Down" on YouTube - CLICK HERE
To listen to an EXCLUSIVE PREVIEW of "Alive" by D-Sharp International feat. Jazzlyn Little CLICK HERE
COMING SOON!
Platinum Label Presents: D Sharp International Forever Rich Forever Young
ATTENTION ALL DJ'S AND REMIXERS
For remix info, contact D-Sharp at platinumlabel(at)gmail(dot)com
Follow on twitter and @dsharpent
Platinum Label Entertainment is a full service record label and production company located in New York City which signs, consults, produces and distributes musical artists of all types in all genres.
For more information
Email: info(at)platinumlabelent(dot)com
Phone: 888-841-8355