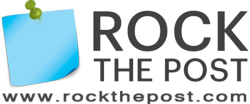 Rock The Post will provide entrepreneurs with the tool kit necessary to reach their campaign goals and achieve their dreams.
New York, NY (PRWEB) August 08, 2012
Rock The Post will host a free educational networking event at the Wix Lounge on August 22, 2012 at 6:00 PM EDT. This event will guide entrepreneurs through the process of launching a crowdfunding campaign, gaining access to funding, and raising awareness about new and innovative projects.
Rock The Post is the leading crowdfunding platform for creative products and services, providing grassroots funding to bright entrepreneurs. Crowdfunding is the ideal solution for entrepreneurs to gain access to funds, presell their product, and receive early market validation from the exposure to thousands of people all over the world. Project creators raise funds without giving equity away.
Funding for early stage, original products is difficult and entrepreneurs often find themselves in desperate need of capital to jumpstart their projects. Since 98% of the business plans received by accredited investors and Venture Capitals are rejected, options are limited. With U.S. banks posting the sharpest decline in private lending since 1942, even loans are hard to come by. Rock The Post gives funders the power to choose which products they want to succeed, and can connect directly with entrepreneurs. As the crowdfunding space expands, it is imperative that conscious business owners and consumers develop the skills needed to navigate it efficiently. During this unique educational and networking event, Rock The Post founders Alejandro Cremades and Tanya Prive will provide entrepreneurs with the tool kit necessary to reach their campaign goals and achieve their dreams.
Event Details:
Wednesday, August 22, 2012 from 6:00 PM to 8:00 PM (EDT)
New York, NY | Wix Lounge (2nd Floor)
You must RSVP to attend this event.
RSVP with:
Eventbrite or Meetup
Agenda: (6:00-8:00PM EDT)
6:00 PM - 6:15 PM: Registration + Cold Beer
6:15 PM - 7:15 PM: Crowdfunding discussion (techniques to run successful campaigns)
7:15 PM - 8:00 PM: Networking with Rock The Post Founders (speak about your project/product)
Event sponsorship opportunities are available; contact us for more details at staff(at)rockthepost(dot)com
About Rock The Post
Rock The Post is a crowdfunding website designed to fund small businesses, entrepreneurs, and nonprofits. It is the ideal tool for entrepreneurs to leverage networks, reach out to new contacts, and fill in the missing pieces of their projects. Rock the Post provides budding businesses with the means necessary to amass resources and flourish.