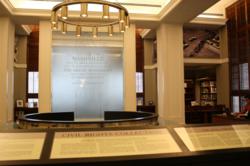 The farther back you look, the farther ahead you can see. Winston Churchill
Nashville, TN (PRWEB) August 09, 2012
Nashville Public Library presents Discover NPL, a documentary providing an inside look at the hidden gems within the library. The first of a series launched Aug. 8 on Nashville's Metro 3 government channel.
The premiere show covers the Special Collections area, where viewers can learn about tracing genealogy. Nashville Public Library offers resources and staff assistance to patrons who wish to discover family roots within the Nashville Room. Visitors will find inhouse resources as the Ancestry Library Edition and a microforms collection which includes city directories for Nashville, cemetery records, newspapers and census records. In addition, the Civil Rights Room offers an impressive historical collection and the Civil Rights Oral History Project.
View Discover NPL
ABOUT THE CIVIL RIGHTS ROOM
Nashville philanthropists Robin and Bill King funded the development of the Civil Rights Room, located in the Special Collections Division. The gift enabled the library to establish the collection and to launch the Civil Rights Oral History Project as a supporting collection to the division. The Civil Rights Oral History Collection contains a series of interviews done by library staff members and volunteers with people who were involved in the Nashville and national movement. Interviews cover general life experiences and include discussions about race relations, civil rights, education, economics, social life, family life, and other topics.
For more information on programs and events at Nashville Public Library, visit http://www.library.nashville.org.