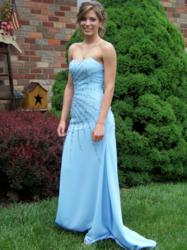 Samantha was a caring, beautiful and vibrant young woman and this Memorial Fund will honor that memory.
Hagerstown, MD (PRWEB) August 08, 2012
The Samantha Kelly Memorial Fund will award annual scholarships to college-bound, female seniors at Williamsport High School who exhibit outstanding academics, athletics and leadership. The Fund will also support other charitable endeavors that build community through youth athletics in the area.
The Samantha Kelly Memorial Fund will be an excellent resource for young women in the Williamsport community who share Samantha's love for life, kindness and positive outlook as they pursue their goal of a college education. All female senior scholar-athletes at Williamsport High School are encouraged to apply. Details on the scholarship application process will be available this fall at http://www.samanthakellymemorialfund.org.
Those interested can support the Fund by attending or sponsoring fundraisers and by direct donations. The first fundraiser is Saturday, August 11th at the Williamsport (MD) Waffle House from 7 am to 7 pm with 10% of the proceeds being donated to the scholarship fund. Details on making direct donations to the memorial scholarship fund can be found at the Fund's website: http://www.samanthakellymemorialfund.org.
The Samantha Kelly Memorial Fund is a non-profit organization incorporated in Maryland and is pursuing 501(c)3 status as a public charity. For more information contact: Brian Vinci, brianvinci(at)hotmail(dot)com, 301-582-3085.