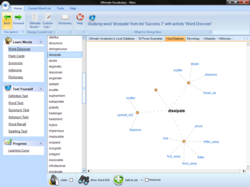 The review was one hundred percent independent, so being notified of the results was naturally a shock.
New York City, NY (PRWEB) August 09, 2012
With the internet allowing people to purchase software packages from anywhere in the world, dominating any particular industry is harder than ever before. However, following a recent review by TopTenReviews, Ultimate Vocabulary™ can rest firmly on its success.
The vocabulary improvement software package was recently rated number one by the site, directly compared alongside eight other similar offerings.
Just about every facet and feature was compared, including features, word numbers, usability and longevity. Ultimate Vocabulary™ satisfied the judges in all areas and was therefore declared number one.
"TopTenReviews is a globally respected review website, so being declared their best vocabulary software is nothing short of amazing," says Marc Slater, Managing Director of the company behind the Ultimate Vocabulary™ platform.
He continues, "The review was one hundred percent independent, so being notified of the results was naturally a shock. However, upon reflection, my team deserve it in every way and it's a true testament to their passion for success."
The award comes soon after the announcement of a 2012 upgrade to Ultimate Vocabulary™.
Boasting a huge range of new features, the software is dominating the vocabulary improvement market like never before.
To see the software comparisons, please click the link above or visit the official Ultimate Vocabulary™ website: http://www.ultimatevocabulary.com.
******
About Ultimate Vocabulary™
Ultimate Vocabulary provides a proven and powerful platform, built to improve anyone's vocabulary.
The interactive self-improvement system provides more learning tools than any other program on the market, as well as more information on words.
The Ultimate Vocabulary software provides each and every user with a personal computer tutor. Providing a step-by-step guide to learning a powerful vocabulary, Ultimate Vocabulary is the learning tool everyone can benefit from.
Of course, the software is also backed by eReflect's iron-clad money back guarantee.