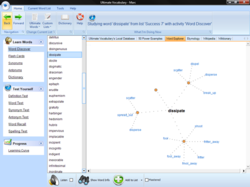 One of the most impressive aspects of Ultimate Vocabulary is that it works for any age group.
New York City, NY (PRWEB) August 10, 2012
Having recently completed the comparison and review of eight different vocabulary improvement software packages, TopTenReviews has rated Ultimate Vocabulary™ number one.
The review, which ultimately awarded Ultimate Vocabulary™ 9.8 out of 10, heavily scrutinized a number of the package's features against those of its competitors.
Everything from the quality of its teaching tools and instruction to the depth of subjects covered were put under TopTenReview's spotlight, with Ultimate Vocabulary™ emerging as the clear winner.
"This independent review came as a pleasant surprise. We're delighted that an independent source rated us so highly," says Marc Slater, Managing Director of the company behind Ultimate Vocabulary™.
He continued, "The review provides in-depth coverage of a number of our software package's features and benefits. It's safe to say that our entire team is over the moon with the results."
For example, the review rated Ultimate Vocabulary's instruction quality as 10 out 10, stating that, "Ultimate Vocabulary offers more vocabulary words than any other application we reviewed."
The review also praised the software for its wide appeal.
"One of the most impressive aspects of Ultimate Vocabulary is that it works for any age group."
Those wanting to read the review for themselves can find it here.
More information about Ultimate Vocabulary™ can be found at the software's official website: http://www.ultimatevocabulary.com
About Ultimate Vocabulary™
Ultimate Vocabulary provides a proven and powerful platform, built to improve anyone's vocabulary.
The interactive self-improvement system provides more learning tools than any other program on the market, as well as more information on words.
The Ultimate Vocabulary software provides each and every user with a personal computer tutor. Providing a step-by-step guide to learning a powerful vocabulary, Ultimate Vocabulary is the learning tool everyone can benefit from.
Of course, the software is also backed by eReflect's iron-clad money back guarantee.