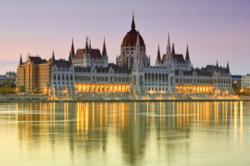 Small wonder the Viking slogan is "Exploring the World in Comfort".
London (PRWEB UK) 9 August 2012
The DRTV Centre's new TV commercials for Viking highlight a number of European destinations including Amsterdam, Cologne, Vienna and Budapest. An attractive feature of Viking River Cruises is that in most destinations the cruise vessel docks in the heart of each city, so passengers simply step ashore to see all the local sights.
A much praised feature is the food on board – and there's complimentary wine with lunch and dinner. Guests often comment too about how friendly Viking Cruises are, with many making lifelong friends with their fellow travellers.
The new TV campaign features a special August offer of savings up to £750 per person, meaning that cruises are available from only £1,245 per person.
Viking River Cruises operates the world's largest and leading fleet of deluxe vessels built specifically for river travel. With its fleet plying the waterways of Europe, Russia, Ukraine and China, Viking has welcomed more than half a million people on magical, enlightening journeys through these exciting places.
Viking ships are Scandinavian in design, with open, airy interiors by famed Norwegian maritime architects Yran & Storbraaten. Guests enjoy all the amenities they might expect in a fine hotel, plus expansive, panoramic views throughout. Small wonder the Viking slogan is "Exploring the World in Comfort".
The DRTV Centre's new Viking campaign includes 60 second and 30 second commercials and is being aired nationally on ITV, Channel Four, BskyB, Five and Media Icon throughout August.
David Pearson of The DRTV Centre commented: "TV is the ideal medium for advertising travel clients as we're able to show great destinations and in Viking's case, a truly fabulous on-board experience. River cruising is the fastest growing segment of the travel market, and Viking is the world's leading river cruising company".
The DRTV Centre company details:

The DRTV Centre was established 15 years ago in London.
It is the first and only advertising agency in the UK to concentrate solely on Direct Response Television.
The agency provides everything clients need to mount successful DRTV campaigns: strategies, idea creation, scriptwriting, storyboards, research, casting, location search, film/video production, music, voice-overs, transmission copies, channel selection, TV airtime booking, call centre selection and response analysis.
Recent clients include WINWales, Viking River Cruises, Vonage, Buddies Pet Insurance, Insect Lore Live Butterfly Garden, De Agostini (India), Westminster Collection and National Accident Helpline.
For further information, visit http://www.drtvcentre.com/contact-drtv-centre-specialist-drtv-advertising-agency-drtv-success or call David Pearson at The DRTV Centre on 0800 635 9000 (email: david(at)drtvcentre(dot)com)