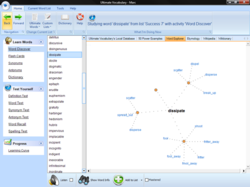 New York City, NY (PRWEB) August 11, 2012
Following an extensive review by Software Review Boffin, the Ultimate Vocabulary™ software platform has officially been awarded a gold medal.
The review comes following Software Review Boffin's comparison of a number of different vocabulary improvement software packages, each scrutinized among a myriad of factors.
The site announced Ultimate Vocabulary™ as its clear winner, with a rave written review to accompany the accolade.
The review claimed that, "It is an excellent choice for people wishing to enhance their vocabulary by being able to use words they may have only previously heard once or twice, and didn't really understand." Also stating that, "The program is affordable and has an easy navigation user interface to make the learning easy, effective and efficient."
Marc Slater, Managing Director of the company behind Ultimate Vocabulary™, was thrilled to learn of the review.
"The review was totally independent, so we had no idea it was coming. Thankfully, we passed their tests with flying colors and came out as number one," he explains.
Continuing, "These accolades spur us to continue improving on our offering. We plan many more updates and many more exciting features to make vocabulary improvement easier than ever before."
Those reading the review will gain insight into the software packages features, ease of use, help & support as well as a summary of the reviewer's finding.
To check out the review, please click the link above. More information about Ultimate Vocabulary™ can be found at the software's official website: http://www.ultimatevocabulary.com
******
About Ultimate Vocabulary™
Ultimate Vocabulary provides a proven and powerful platform, built to improve anyone's vocabulary.
The interactive self-improvement system provides more learning tools than any other program on the market, as well as more information on words.
The Ultimate Vocabulary software provides each and every user with a personal computer tutor. Providing a step-by-step guide to learning a powerful vocabulary, Ultimate Vocabulary is the learning tool everyone can benefit from.
Of course, the software is also backed by eReflect's iron-clad money back guarantee.