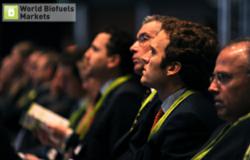 (PRWEB UK) 8 August 2012
The current political and economic climate suggests that 2012/13 will mark a turbulent time in the biofuel industry's history. Concerns over reaching biofuels targets in Europe, the poor harvests in Brazil affecting blending levels and the unsettled Renewable Fuels Standard in the US trouble the global industry. But from challenges come opportunities; marked by the growth of the renewable chemicals industry, commercial scale advanced biofuels plants coming online and continuing flight testing in aviation biofuels. The industry cannot afford to take its foot off the pedal for one moment.
Due to popular demand the 8th annual World Biofuels Markets Congress & Exhibition will return to the Beurs-World Trade Center, Rotterdam for 2013. Once again the event will bring together over 1500 representatives from across the entire global biofuels value chain to discuss the most cutting edge topics in the bioenergy space. For more information visit http://www.worldbiofuelsmarkets.com
In order to continue to offer participants what they need, the World Biofuels Markets organisers are deepening the agendas this year to provide even more analysis of the hottest areas in biofuels. Claire Poole, the conference's Event Director recently commented "The size, scope and breadth of World Biofuels Markets means that whether you need to focus on one key area of the biofuels industry or get a bird's eye view of the entire industry, your needs really are catered for."
For 2013 the World Biofuels Markets Congress will offer a new three day conference on sustainable agriculture and biofeedstocks, and extended popular sessions such as aviation, sustainability, policy and iLUC, advanced biofuels and finance and investment to be full two day conferences. Fresh perspectives have been brought to the returning conferences; emerging markets, biorefinery platforms, downstream partnerships and biodiesel conferences; in addition to the brand new coverage of biofuels and water security and sustainable agriculture.
For more information and to register your interest, visit: http://www.worldbiofuelsmarkets.com
Video highlights from 2012 are available, to see why this is the largest, most influential and globally attended biofuels congress and exhibition in Europe: http://www.youtube.com/worldbiofuelsmarkets
World Biofuels Markets Congress & Exhibition offers the biofuels industry a unique way to build relationships and drive sales. Nadim Chaudhry, Founder of Green Power Conferences elaborated on this recently: "With the entire global value chain present, we enable our attendees to network with people they wouldn't usually come into contact with, which has sparked many innovative new business deals and partnerships, which are now actually driving the industry forward."
Green Power Conferences offer bespoke sponsorship and exhibition packages to ensure you meet and exceed your business objectives. If you are looking to win prospective clients, strengthen existing relationships or enhance your company profile, please contact the business development team today:
Chris Lewis, Tel: +44 (0)203 355 4224, Email: chris.lewis(at)greenpowerconferences(dot)com
For more information on this release, please contact melanie.botting(at)greenpowerconferences(dot)com