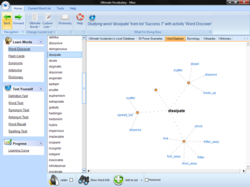 This independent review is a testament to the hard work of our team.
New York City, NY (PRWEB) August 12, 2012
Following much anticipation and hype, TopTenReviews.com has published its '2012 Best Vocabulary Software Reviews and Comparisons' report.
The report, directly comparing the features and benefits of nine of the world's most popular vocabulary improvement software packages has rated eReflect's Ultimate Vocabulary™ as number one.
Stacking up against eight other software packages, Ultimate Vocabulary™ displayed an impressive list of features, satisfying almost all of the report's comparison criteria.
For example, Ultimate Vocabulary™ was the only software package to boast an amazing 142, 647 included words and one of the only platforms to allow users to add their own words and create flashcards from them.
"This independent review is a testament to the hard work of our team," says Marc Slater, Managing Director of the company behind the Ultimate Vocabulary™ platform.
He continues, "We are delighted when external sources rate our products so highly. Everything we create is built to help those using it improve their vocabulary far beyond anything they ever imagined. We will continue to build on this success."
More information about Ultimate Vocabulary™ can be found at the online report (link above) or at the official Ultimate Vocabulary™ website: http://www.ultimatevocabulary.com
About Ultimate Vocabulary™
Ultimate Vocabulary provides a proven and powerful platform, built to improve anyone's vocabulary.
The interactive self-improvement system provides more learning tools than any other program on the market, as well as more information on words.
The Ultimate Vocabulary software provides each and every user with a personal computer tutor. Providing a step-by-step guide to learning a powerful vocabulary, Ultimate Vocabulary is the learning tool everyone can benefit from.
Of course, the software is also backed by eReflect's iron-clad money back guarantee.