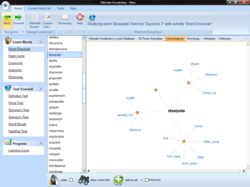 Ultimate Vocabulary is without question the best vocabulary building software we have tried to date.
New York City, NY (PRWEB) August 13, 2012
As part of its ongoing commitment to showcasing the world's best software products, Software Review Boffin has recently published its Vocabulary Software Reviews.
The category heavily scrutinized a collection of available vocabulary software review packages, eventually awarding bronze, silver and gold medals to the top-scoring products.
Having satisfied the site expert's stringent criteria, the site has awarded its gold medal to Ultimate Vocabulary™.
Within the site's written evaluation, the team praised Ultimate Vocabulary™ for its ability to vastly improve each users' natural vocabulary with only ten minutes of use each day.
"Ultimate Vocabulary is without question the best vocabulary building software we have tried to date. It is an excellent choice for people wishing to enhance their vocabulary by being able to use words they may have only previously heard once or twice, and didn't really understand," said the team at Software Review Boffin, summing up why they awarded the software package its number one spot.
Ultimate Vocabulary™ is the product of years of diligent work by a team of software developers and vocabulary experts. Their Managing Director, Marc Slater, shares his delight at the accolade.
"We were thrilled to be notified that Software Review Boffin had awarded us a gold medal. We had no idea it was coming, yet it was gratefully received. It's great to see the hard work of our team being rewarded in this way," he said.
The software package is available for instant download around the world.
For more information, please visit the independent review category (link above) or visit the official Ultimate Vocabulary™ website: http://www.ultimatevocabulary.com
About Ultimate Vocabulary™
Ultimate Vocabulary provides a proven and powerful platform, built to improve anyone's vocabulary.
The interactive self-improvement system provides more learning tools than any other program on the market, as well as more information on words.
The Ultimate Vocabulary software provides each and every user with a personal computer tutor. Providing a step-by-step guide to learning a powerful vocabulary, Ultimate Vocabulary is the learning tool everyone can benefit from.