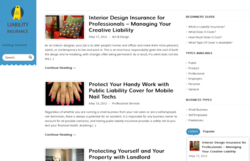 Whilst great care is given to personal safety, cyclists should also consider their financial safety should they be involved in an accident with another road user, pedestrian or property whilst out on the roads
(PRWEB UK) 8 August 2012
Cycling has seen its popularity across the United Kingdom soar in recent months thanks to Bradley Wiggins's Tour de France win and the flurry of gold medals won at the London 2012 Olympic Games. With the increase in new riders taking to the roads set to increase further, online liability insurance website http://www.liabilityinsurance.org.uk would like to remind cyclists both new and old that insurance for road users doesn't just apply to motorists.
Whilst bike theft itself is the main risk that many people first think of when it comes to the topic of cycle insurance, many cyclists could be putting their finances at risk by not having in place adequate liability protection.
Contrary to popular belief, the largest financial loss a cyclist may face when out on the road is that of liability for damage to a third party. Whether that be another person, vehicle or property with claims for damages having the potential to run into thousands of pounds.
"Road cycling is a great way to both commute and stay fit, but it isn't without risk," says Nick Holshaw from UK liability website LiabilityInsurance.org.uk.
Although third party insurance for cycling is not required by UK law, the risk is still there of causing damage to an expensive vehicle whilst cycling on the roads. For example having to replace a broken wing mirror on a £50k Mercedes is an expensive prospect to consider.
And whilst the odds of causing serious injury to another road user, for example another cyclist or pedestrian, is very low, the risk is still there every time you venture out onto the road. Depending on the severity of the injury, medical damages do have the potential to run into millions of pounds.
"The majority of cyclists go to great lengths to ensure that their personal safety is protected whilst out on the roads, by wearing helmets, high visibility clothing and staying alert to other road users and potential hazards. Whilst great care is given to personal safety, cyclists should also consider their financial safety should they be involved in an accident with another road user, pedestrian or property whilst out on the roads".
"When shopping around for insurance we recommend cyclists check to make sure that their policy includes cover for theft, damage and acts of vandalism to the bike and accessories, along with adequate liability protection in the event of an accident whilst out on the road," says spokesperson Nick Holshaw.
----
Nick Holshaw is a freelance insurance analyst who reports on a variety of personal liability and small business consumer topics for http://www.liabilityinsurance.org.uk.