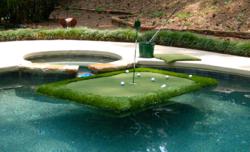 My husband now spends hours outside with the kids around the pool.
Atlanta, GA (PRWEB) August 08, 2012
A huge void in the marketplace for pool toys is now filled with a golf green product that matches the quality of the pools in which they float. IntelliTurf floating golf greens are perfect for any gift occasion, party or simply a great amenity for the pool. Included with the green are a chipping mat, cup, flag and floating golf balls that feel like real golf balls. Simply pull the green out of the box, adjust the cup, float it out into the pool and start chipping. The cost is $399.00 delivered in the continental US. Ordering is handled directly through FloatingGolfGreen.com.
The initial feedback from our customers has been flattering. "Great product!  Great fun!  Thank you for helping our event be a success!" emailed a GM from a Texas country club. Medinah Country Club, the host of this years Ryder Cup Matches outside of Chicago, bought two floating greens to use for a competition during the member guest. Normally Medinah creates a putting contest during member functions but with the impending Ryder Cup matches the club chose to relieve the putting green of unnecessary use. A GM at a private club in Atlanta expressed, "every club should have a floating golf green on hand, these greens can be used for so many events."
Premium quality synthetic grass is used for the green, fringe and tee box. The first prototype was tested in the same pool for 5 months at which time IntelliTurf gave up on trying make it sink. The flags are premium quality just like a private golf club's practice putting green.
The dozen balls shipped with the green are 30% distance balls and are rated neighborhood safe. The balls are not plastic or foam, but made from hard rubber that spin creating a reaction on the floating green similar to how a natural grass golf green will hold a well struck shot. The combination of the ball and the floating green surface gives the golfer a wonderful practice venue right in the backyard and offers a great experience for competitions.
If quality is a concern, rest assured, IntelliTurf has been installing synthetic grass golf greens since 1998. IntelliTurf is comprised of golfers and takes pride in delivering a product that not only looks great floating in the pool but performs to the standard of the most discerning golfer.
The web site for the floating green, FloatingGolfGreen.com, is not just an ordering hub but outlines various golf games, a handicap system and will display winning shots from video contests and competitions, the first of which is Labor Day weekend.
The reasons IntelliTurf, Inc. built the Floating Golf Green are two fold. With regular inquiries from wives, girlfriends and mothers wanting to buy gifts for their golfers, IntelliTurf did not offer a product that was at a price point for most gift occasions. Secondly, the marketplace for pool toys is comprised mostly of choices less than $50.00 and frankly you get what you pay for. Few if any pool toy products serve the buyer looking for an upscale option the entire family could use priced from $100.00 to $500.00 until the Floating Golf Green by IntelliTurf.
Golf in the backyard is underserved. This is a popular game and here in the USA most backyards are conducive to hitting some type of chip shot. IntelliTurf synthetic grass putting green installations normally range from $8,000.00 to $15,000.00 in residential settings which can be out of reach for many budgets. With the Floating Golf Green, if an interested party has a pool or access to a pool, this is a great way to improve your short game or make a special occasion even more special at a very affordable price.
For parties interested in wholesale pricing and multiple green orders, IntelliTurf offers 5 and 10 packs delivered via freight on a pallet. Custom sizes are available starting around $1,000.00 and require some assembly after delivery.
One simple box brings an upscale pool toy to an underserved market, provides great short game practice and will give any function a surprise boost to all in attendance. IntelliTurf's Floating Golf Green is affordable, plays like a real golf green and looks great floating in any pool.