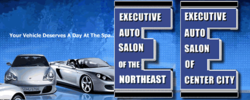 Philadelphia, PA (PRWEB) August 08, 2012
Executive Auto Salon is now offering custom detailing services that can be tailored to meet any driver's needs. With a variety of packages available, a person can get the entire interior and exterior finishes completed. For any car detailing in Philadelphia, Executive Auto Salon is the place to go.
Many car owners don't know the importance of car detailing, and with the professionals at Executive Auto Salon, they can address any damages that may have occurred from the environment. With acidic pollutants being released into the air it can damage the surface of a car. These car detailing experts in Northeast Philadelphia can provide a classic detail, which would help address any exterior issues that may have been affected by acidic pollutants.
A Spokesperson of Executive Auto Salon stated, "Here we have one goal in mind and that is to provide exceptional car detailing in Philadelphia for any automobile owners. We want our washes to be like a spa for your car. Like any car owner we understand it is one of your largest investments so why not take care of it."
They are trained and nationally certified on the latest auto equipment and procedures for any car body repairs services in PA. They are also proud to announce that Executive Auto Salon is the first environmentally friendly body shop in the tri-state area! They pride their work on customer satisfaction whether it is custom detail or auto body repair.
Executive Auto Salon offers the finest automotive detailing, auto body repair and painting services in the Tri-State area. With over 20 years of experience in the automotive industry they are committed to providing first-rate service and cutting edge technologies to pamper any automobile.