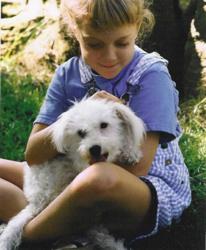 The change from summer to school-year schedule can be hard on the family dog.
Norwalk, CT (PRWEB) August 09, 2012
Back-to-school season can be tough on the family dog: after having children to play with all summer long, he's suddenly alone most of the day.
"The change from summer to school-year schedule can be hard on the family dog," says Kim Mandel, a certified professional dog trainer with Best Friends Pet Care, a leading provider of dog boarding, grooming, training and doggy day camp. "The kids are gone all day, and when they come home, they're busy with schoolwork."
This can lead to boredom and separation issues, which can cause a normally well-behaved dog to behave badly -- chewing on furniture, barking excessively or soiling in the house.
Mandel and fellow Best Friends trainer Lynne Fermanian suggest four tactics to help the family dog transition to the new schedule:

Pump up the exercise. Schedule time each day for a long walk, an active round of fetch, or a visit to the dog park where he can romp with canine friends. Leaving your dog alone out in the yard does not count as exercise.
Add mental stimulation. To reduce boredom while the family is out, fill a treat-dispensing ball with your dog's breakfast kibble; she'll have to work to retrieve her meal – and will be so busy that she won't notice you are gone.
Send him to camp. Avoid long lonely days at home with doggy day camp, where dogs play together in a safe, supervised environment that is helpful for dogs of all ages, sizes and breeds. Just one or two days a week is beneficial for most pets.
Try training. Working on a new trick each day will engage a dog intellectually and physically. A training class will not only refresh skills, but also give dogs time to socialize with canine friends.
Of course, the best solution is prevention. Fermanian, who has been training dogs for more than 25 years, suggests preparing the pet for home-alone time well before the first day of school. "A couple of weeks in advance, start leaving him home for short periods, gradually increasing alone time to the length of the school day."
For more advice on dealing with back-to-school blues, or to locate a professional trainer or a quality doggy day camp program, visit http://www.bestfriendspetcare.com.