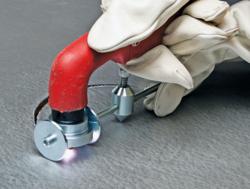 Eastwood's Plasma Cutting Guide offers precision and accuracy not available in many more expensive guides.
Pottstown, PA (PRWEB) August 08, 2012
The Eastwood Company has launched a new, Eastwood engineered Plasma Cutting Guide, which allows for easy cutting of straight lines, curves, radii, and circles and is designed to fit the Eastwood Versa Cut Plasma Cutter. Eastwood's Plasma Cutting Guide continues Eastwood's commitment to deliver superior, professional quality products at DIY prices.
The Eastwood Plasma Cutting Guide is fast and efficient, and is easily adjustable to cut clean, accurate circles and holes from 3" to 16" in diameter in material up to 3/8" thick. It has large 1.375"-dia. wheels for easy maneuverability and a 0.25" rod for accurate arcs, circles and holes. It is designed to create slag-free perfect circles, laser-straight lines and free form designs.
"The Eastwood Plasma Cutting Guide greatly enhances the versatility of your plasma cutter," said Eastwood Product Engineer, Mark Robidoux. "Eastwood's Plasma Cutting Guide offers precision and accuracy not available in many more expensive guides. Other plasma guides produce less than perfect circles as the unsupported metal drops while cutting, which alters the path of the cutter. The Eastwood Plasma Cutting Guide has a spring loaded screw that can be inserted through the center guide-hole on the work piece, which self supports the metal being cut."
Eastwood markets unique tools and supplies for repair, restoration, and modification of cars, trucks, and motorcycles. Founded in 1978, Eastwood constantly strives to develop new products to serve the home automotive hobbyist, as well as individuals and organizations focused on the restoration and preservation of automobiles and motorcycles. Writers are always welcome to use any article in Eastwood's Free Tech Library, with attribution. Contact Connie LaMotta at conniela(at)mac(dot)com or 845. 596.6091. __title__ Eastwood Plasma Cutting Guide]