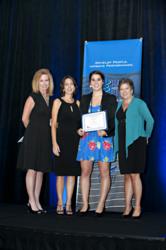 Orlando, FL (PRWEB) August 08, 2012
Jacqueline Lowell, a 2012 graduate of Mountain View Academy Hospitality Management Program in New Hampshire, is the winner of a $2500 scholarship awarded by the Council of Hotel and Restaurant Trainers (CHART) and the American Hotel & Lodging Educational Foundation (AH&LEF). The scholarship was presented by American Hotel & Lodging Educational Institute (EI) senior vice president of sales Brenda Moons on Saturday, July 21, during the CHART conference in Chicago.
Lowell completed the two-year Lodging Management Program (LMP) curriculum taught at Mountain View Academy and worked at the Mountain View Grand Resort and Spa. She was a member of the team representing New Hampshire at the International LMP Competition in 2011 and 2012. The team was the overall third place winner at the 2011 LMP National Championship and also took first place in the Hospitality Project event.
In addition to her hospitality studies, Lowell was also student council president, a member of the Spanish Club and Recycling Club, and a varsity athlete in cross country, basketball, soccer, and track and field. She was also a member of the Future Business Leaders of American, 4-H, and the National Honor Society. She graduated third in her high school class.
Lowell will attend Boston University in the fall, where she will be part of the School of Hospitality Administration. In addition to majoring in hospitality, she also plans to minor in Spanish and American Sign Language and hopes to study and work abroad to gain international experience.