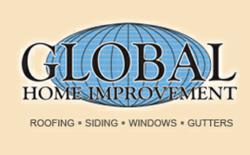 Feasterville, PA (PRWEB) August 08, 2012
With any Shingle Roof Installation from Global Home Improvement, homeowners will receive a free seamless gutter or attic insulation. On top of the best warranties in the roofing industry, homeowners will get a peace of mind with their Metal Shingle Roofing in Philadelphia along with this added bonus.
Global Home Improvement contractors will assist homeowners on deciding what type of roof will best suit their home. A great alternative to traditional asphalt roofs is Fiberglass Shingles. They are also a safer option since have no asbestos in them. Global Home Improvement roofers not only want to protect themselves from the cancer causing material but your family as well.
A spokesperson of Global Home Improvement stated, "Our goal is to make sure home and business owners are safe and have a properly installed roof that will last for years to come. Whether you are getting Metal Roofing in Philadelphia or Shingle Roofing we want to provide a durable structure that will compliment the exterior of your property."
With Global Home Improvements special offer, homeowners will be able to decide between getting a seamless gutter or attic insulation for free from these roofing contractors in New Jersey. They are dedicated to providing homeowners with a safe, long lasting roof for many years.
They are committed to servicing the Tri-State area and are the leading residential metal roof installer. They are a family owned and operated business that presents unique windows, siding, and metal roofing contractors that offer hands on experience. To learn more visit http://www.globalhomeinc.com