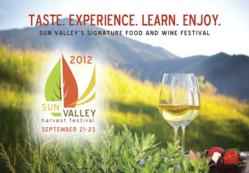 Sun Valley, Idaho (PRWEB) August 07, 2012
Now in its third year, the Sun Valley Harvest Festival brings together the finest agricultural wonders of Idaho and the Northwest, tempting guests to tantalize their taste buds, learn culinary secrets from top chefs, and savor wines from internationally acclaimed wineries. This is the signature foodie event of the region.
This spectacular weekend event, taking place September 21-23 in beautiful Sun Valley, Idaho, is packed with a wide range of activities ensuring there is never a dull moment. Comprised of four ticketed and two free events, the Festival attracts locals and food loving travelers from Seattle, San Francisco, Portland, Los Angeles and across the US. Guests can enjoy both culinary and outdoor adventures filling their days with the robust offering Sun Valley holds in store. The backdrop of pristine Sun Valley mountains basks in the best weather of the year with warm, sunny days of crystal clear blue skies and cool nights. The leaves are starting to turn in fall glory, and visitors can enjoy the variety of activities from hiking to fly fishing to mountain biking to golf all of which are of world class quality.
The festival includes cooking demonstrations and wine tastings, a restaurant walk, a specialty marketplace, the Idaho River Guide cooking demonstration, the not-to-be-missed Martini & Caviar Party, and the finale, the Grand Tasting. Sun Valley Harvest Festival attendees can purchase an "All Events" pass for $270, or pick and choose from the following events:
Restaurant Walk — Guests will spend their evening strolling through downtown Ketchum with a premier Idaho adventure company and Ketchum's own Frenchman's Gulch Winery. Tastings will abound as this moveable feast allows guests to sample eclectic fare from participating restaurants and enjoy savory offerings paired with a choice beverage. The walk takes place Friday, September 21st, 5:00 pm - 7:00 pm, starting from Ketchum Town Square. Admission is $35 per person.
Demonstrations & Presentations — Participants can become instant wine connoisseurs by learning how to properly taste, select and pair wines from the festival's guest sommelier. Each demonstration is one hour long followed by a sampling of the chef's presentation paired with a wine from one of the sponsoring wineries and an opportunity to meet the chef and have a cookbook signed. The demonstrations take place on Saturday, September 22nd, 9:30am - 5:00pm, under the tent at Carol's Dollar Lodge. Admission is $40 each.
This year's Demonstration line-up includes:

9:30am -Teacher, author and chef, Jesus Gonzales, formerly of Rancho La Puerta and currently the Culinary Director at Cups in La Jolla, CA;
11:00am -TV personalities, authors and James Beard Lifestyle nominees Brent Ridge and Josh Kilmer-Purcell of the Fabulous Beekman Boys
12:30pm - La Varenne Ecole de Cuisine graduate, Chef John Tesar, Executive Chef and Owner of Spoon Bar & Kitchen (opening the fall of 2012) in Dallas, TX
2:00pm - The James Beard Foundation 2010 Best Chef of the Northwest and the 2006 Food and Wines Best New Chef, Jason Wilson of Crush in Seattle
3:30pm - Jackie Quillen formerly "the Nose" at Christie's Wine Auction Department in New York
Harvest Marketplace— Visitors have the opportunity to experience and take home the best of Idaho's organic, sustainable and hand crafted foods; coffee, tea, cheese, dairy, meat, produce, baked goods, and all kinds of specialties from hand-selected purveyors. The marketplace also features the newest kitchen gadgets, cookbooks, and much more. The marketplace will be open on Saturday, September 22nd, 10:00am - 5:30pm, Carol's Dollar Lodge. Admission is free.
Martini & Caviar Party — Atop local foodie heaven, "Boca's", roof-top bar in downtown Ketchum, guests revel in breath-taking views of the night sky, while enjoying luscious artisan cocktails featuring one of Square One Organic Spirits three vodka varieties, Botanical, Cucumber and Basil created by Mixologist Ryan Sullivan. Idaho sturgeon caviar hors d'oeuvres masterfully designed by Boca Executive Chef Jim Roberts make a lovely complement to these hand-crafted drinks. The party takes place on Saturday, September 22nd, 5:30pm - 7:30pm, at Boca, 131 Washington Avenue South, Ketchum. Admission is $75 per person and space is limited to 100 guests.
River Guide Cooking Demonstration— Outdoor cooks seeking adventure will be taken aback by the incredible fare which can be created off the grid. Participants travel into the world of gourmet, outdoor cooking by watching local river guides create delightful dishes over an open grill or in a Dutch oven. This demonstration takes place Sunday, September 23rd, 10:00am - 12:00pm, on the lawn at Carol's Dollar Lodge. Admission is free.
Grand Tasting — This grandiose tasting benefits the newly formed Sun Valley Culinary Institute and allows festival guests to partake in local creations, including savory main dishes, side dishes, artisan pizza, desserts, hors d'oeuvres and much more. The tasting also includes internationally acclaimed wineries; Chateau Ste. Michelle, the renowned 80 year old Washington winery; Col Solare, a partnership between two of the world's most influential producers; Erath Winery a producer of the best Oregon Pinot Noir the region has to offer; Northstar, a Walla Walla winery that produces full bodied and fresh merlots that are considered among the world's best; Spring Valley Vineyard, a true Washington estate winery; and the ground breaking Stag's Leap Wine Cellars that at the 1976 Paris Wine Tasting changed the world's view of California wines forever. The grand finale tasting takes place on Sunday, September 23rd, 12:00pm - 3:00pm, Carol's Dollar Lodge. Admission is $75 per person.
The Sun Valley Harvest is sponsored by Lyle Pearson, Sun Valley Magazine, Knob Hill Inn, Atkinson's Market, Idaho's Bounty, Square One Organic Spirits, Morgan Stanley Smith Barney, Boise Weekly, Paulette Phlipot Photography, Ignite Advertising & Design, Chateau Ste. Michelle, Col Solare, Erath Winery, Northstar, Spring Valley Vineyard and Stag's Leap Wine Cellars.
About Sun Valley Harvest Festival
Founded in 2010 by Heidi Ottley & Ed Sinnott, the Sun Valley Harvest Festival has become the signature foodie event of the Idaho region. Set against the backdrop of one of the most beautiful places on earth – Sun Valley, Idaho – the three day festival combines internationally recognized winemakers and chefs with flavors from the agricultural wonders of Idaho and the Northwest. For more details and ticket information visit http://www.sunvalleyharvestfestival.com or call 208.450.6430.