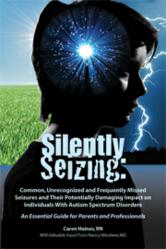 We must help our loved ones to be understood. ... Parents need to be partners with their child's doctors, and together unravel this puzzle known as autism.
Overland Park, KS (PRWEB) August 20, 2012
As many as 30% of all children and young adults with autism spectrum disorders may have undiagnosed seizure disorders, to a great extent because they are difficult to diagnose and due to a lack of awareness and understanding. Silently Seizing: Common, Unrecognized and Frequently Missed Seizures and Their Potentially Damaging Impact on Individuals With Autism Spectrum Disorders by Caren Haines, RN, and valuable input by Nancy Minshew, MD, is a breakthrough book that explores what most doctors won't tell you – that in some cases the symptoms of autism are caused by seizures, undetectable, with standard diagnostic tools.
At age 2, author Caren Haines' son was diagnosed with autism. By the time he was 12, his diagnosis didn't account for his uncontrollable aggression, the acrid smells that lingered in his mind and the odd voices that screamed at him from inside his head. By the time he was 18, his out-of-control behavior mirrored a mood disorder with psychotic features.
Silently Seizing: Common, Unrecognized and Frequently Missed Seizures and Their Potentially Damaging Impact on Individuals With Autism Spectrum Disorders begins with a close-up look at this family's journey and examines a disorder that cannot always be identified in a clinical setting. Intersecting at two medical subspecialties, neurology and psychiatry, the child who has autism and partial seizures is at a serious disadvantage. By inadvertently allowing children's brains to "silently seize," we are robbing children of their ability to function normally. When treated early with anti-seizure medications, on the other hand, many children show amazing gains in expressive language and comprehension. Many begin to speak and learn as many troubling behaviors begin to disappear. Even more important, many children lose their diagnosis of autism.
Backed by up-to-the-minute research, this must-read book includes sections on what autism is, the seizure-autism connection, tips for diagnosing and treating seizures, as well as how to better understand children's behavior.
Book Excerpt:
Questioning Authority
Parents and caretakers of children with autism need to arm themselves with as much knowledge as they can possibly glean from those who have studied this perplexing disorder in depth. In particular, it is important to work with a team of experts who understand and treat the complexities of this disorder.
Unfortunately, we often rely on inexact science to tell us what is wrong with our children without questioning that science. This can lead to the erroneous assumptions we make as to why a child lashes out, screams or becomes violent, but the truth is we don't always know. The reason we don't know is that most of these children cannot answer the basic question, "What's wrong?"
How many of us have the tools we need to dissect the behavior of our children with autism? When we are told by experts, "this is just the way they are," we believe it, because as parents and average people we don't have the tools to look further. So we grieve the loss and go on with our lives, accepting that our children bang their heads for no reason, walk on their toes, cling to a wall in fear, cover their ears and stare into space. We believe that this is a part of autism, a disorder for which no existing remedy can significantly alter the course.
But what we – and many doctors – may not recognize is that these behavioral traits are also common manifestations of seizures in children. And untreated, these seizures can predispose children to develop similar types of behavioral disturbances, such as self-injury, aggression and psychosis, which are seen in many cases of autism.
About the Author:
Caren Haines is the mother of a 24-year-old son diagnosed with autism as a young child. As a registered nurse, Haines relied upon her nurse's training to assist her in deciphering the origins of many of her son's perplexing behaviors. Based on knowledge gained from years of intensive research she compiled for this book; as well as, information provided by top researchers in the field of autism, Haines is helping families become free from the debilitating symptoms of silent seizures and psychosis. Haines is also co-author of a children's book, Georgie, The Flying Dog, which explores the concept of unconditional love and acceptance of our differences.
About AAPC Publishing:
Established in 1999, the mission of AAPC Publishing is to be the first source for practical solutions related to autism spectrum and related disorders. AAPC Publishing is an independent publisher, targeting professionals and parents alike. AAPC Publishing strives to offer publications at affordable prices so that important resources are available to anyone with an interest in the autism spectrum.
For media inquiries, please contact marketing(at)aapcpublishing.net.