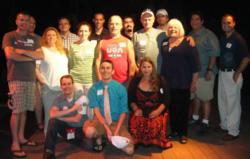 "These are folks who believe in the founding principles of our forefathers. We should be proud that they are Republicans and are our future." Maine State Senator Lois Snowe-Mello
Portland, Maine (PRWEB) August 07, 2012
By unanimous vote of those present, the 40 contested members of the Maine Delegation to the Republican National Convention being held this month in Tampa, Florida, did not accept a deal put forward by Charles Webster, State GOP Chairman.
Brent Tweed, the elected Chairman for the Delegation, notes that the proposal would have required the delegates to sign a binding pledge to cast their votes for Mitt Romney at the Republican National Convention if Ron Paul did not appear on the ballot.
Speaking on the decision, Tweed said, "We were rightfully elected by the Republicans of Maine to represent them as unbound delegates in Tampa. It is unreasonable for the Republican Party at either the national or state level, or for any campaign for President, to attempt to pressure the Maine Delegation to vote any particular way. We will not be intimidated into signing political deals under threat of being unseated. We are accountable to the Maine Republicans who elected us, not the Mitt Romney Campaign."
Additionally, the proposal would have required elected Delegation Chairman Tweed to relinquish his responsibility as spokesman for the Delegation. According to Tweed, the Delegation Chair is traditionally the individual who announces the votes cast by the State Delegation, but the proposal requires that the responsibility be given to a delegate who supports Mitt Romney.
Webster said the contest would be withdrawn providing the Delegation members agreed to a deal he reportedly brokered with the Mitt Romney Campaign, according to Tweed.
Both Governor LePage and National Committeeman Rick Bennett have stated their support for the Delegation. LePage's office stated last week, "Governor Paul LePage stands behind Maine Republican National Committeeman Rick Bennett's position that all Maine Delegates should be seated at the Republican National Convention."
Many elected members of the State Legislature have signed a petition requesting the withdrawal of the contest, including Senator Lois Snowe-Mello (R-Auburn), Rep. Aaron Libby (R-Waterboro), Rep. Rich Cebra (R-Naples), Rep. Beth O'Connor (R-Berwick), Rep. Ellie Espling (R-New Gloucester), Rep. Ryan Harmon (R-Palermo), Rep. Mike McClellan (R-Raymond) and Rep. Stacey Guerin (R-Glenburn).
Snowe-Mello was on the Romney slate of Delegates at the State GOP Convention in May but states, "I feel that we should allow the people who were elected to attend the National Convention to represent our State Republicans. These are folks who believe in the founding principles of our forefathers. We should be proud that they are Republicans and are our future. I stand by the Governor and Rick Bennett."