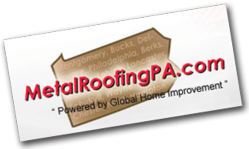 Philadelphia, PA (PRWEB) August 08, 2012
Metal Roofing PA is now offering free seamless gutters, Velux skylights, snow guards, or attic insulation with a new metal roof purchase. When considering replacing an existing asphalt roof, Metal Roofing PA is the company to call in Pennsylvania for any repairs and replacements.
This Metal Roofing Company serves Bucks County residents for any roofing needs or emergencies they may have. Having a metal roof installed offers major benefits for many parts of a home. These Metal Roofing Contractors in Philadelphia will tell any customer that their life expectancy is 50 or more years, and that they are extremely durable being that they resist fire, wind, ice, and mold while also adding resale value to a property!
A spokesperson of Metal Roofing stated, "Metal roofing can save up to 40% of cooling energy costs in the summer and it is extremely environmentally friendly since it is all recyclable. Our contractors strive to give home and business owners the best looking roof that is also very beneficial at the same time. On top of all that, we are offering free products and services to be installed with a metal roof purchase!"
This Metal Roofing Company in PA offers Velux as one of their free services, which is the world leader in skylights. They are of the highest quality and most energy efficient product on the market. By taking advantage of this offer anyone can enjoy adding daylight into his or her home. The contractors at Metal Roofing PA want every homeowner to be able to take advantage of this special offer.
About The Company
Metal Roofing PA is a leading and a top-notch residential metal roofing company for installing standing seam metal roofs in Bucks County, Chester County, Montgomery County, Lancaster County, Delaware County, Wynnewood, Newtown, Fort Washington, Hatboro, Narberth, Pottstown, West Chester, Rydal and Philadelphia. Standing seam metal roofing is considered to be ideal for historical homes, low sloping roofs, partial roofs such as sunrooms and porches, as well as contemporary homes. Metal Roofing PA stands apart from the rest because they manufacture our metal roof panels on site, and uses their own certified metal roof installers!